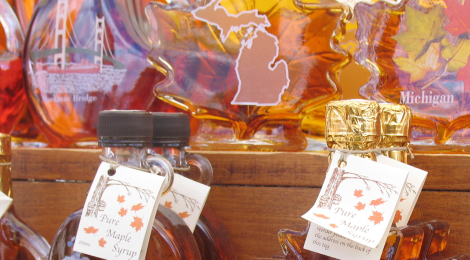 The Great Lakes region is a top producer of pumpkins, with Illinois growing 90% of the seasonal fruit in the U.S. California is second in the country and Michigan comes in at number six behind Ohio, Pennsylvania and New York. A while ago I mentioned how much I like pumpkin and promised to share recipes. Here's one for fluffy, not-too-sweet pumpkin pecan pancakes; we've brunched on them and savored them for supper on fall and winter evenings.
Last November when I visited Paige in Ithaca she requested that I whip up a batch for a bunch of her friends after classes; I enjoyed the time in the kitchen getting to know her college chums while I tried to keep ahead of them as they gobbled these up (good thing I doubled the recipe). 
The recipe comes from Mrs. Rowe's Restaurant in the Shenandoah Valley. The Rowe family has been serving daily specials since 1947, and the younger generation has expanded the operation beyond the original restaurant and bakery in Staunton, Virginia.
We ate at Mrs. Rowe's on our return trip from Williamsburg several years ago and liked these hot cakes (as they're listed on the menu) so much that I bought her cookbook so we could enjoy them at home. The only Great Lakes connection is the canned pumpkin from Libby's, which was founded in Chicago.
This recipe serves four generously, but if you're cooking for college kids, make a double batch.
Mrs. Rowe's Pumpkin Pecan Pancakes
Serves 4
2 cups all-purpose flour
4 tsp. baking powder
1 tsp. ground cinnamon
½ tsp. ground nutmeg
¼ tsp. ground allspice
¾ cup sugar
1-1/2 cups solid pack pumpkin
3 eggs
1 cup milk
¾ cup vegetable oil
1 tsp. vanilla extract
4 oz. chopped pecans
Sift dry ingredients and set aside. Using a large bowl, combine pumpkin, eggs, milk, oil, and vanilla. Add dry ingredients and stir until blended; stir in pecans just before ready to cook.
A hot greased griddle is best for cooking pancakes. Pour ¼ cup batter onto griddle and cook until bubbles form and bottom is brown. Turn and brown the other side. Serve with warm pure Maple syrup.
If preferred, omit the pecans from the batter and add to the syrup. Heat and pour over pancakes.
 Related posts
It's a Great Season for…Pumpkins
All stories and photos copyright Kath Usitalo unless noted otherwise