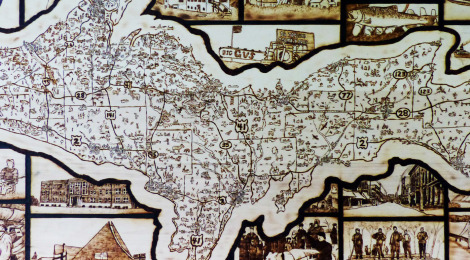 On a gray and chilly June afternoon during the Scandinavian Midsummer Festival at Marquette's Presque Isle Park, T.J. and I were warmed by a young artist who burns wood. More precisely, the woodburned artwork of Aaren Joki and his Metsami Creations. Metsami is a Finnish word for woodland, and the 19-year old draws on his heritage in his woodworking projects.
Aaren, a self-taught artist and craftsman from the Upper Peninsula's Ishpeming area, builds rustic furniture like tables with cedar stump bases, and functional pieces such as cutting boards and birch bark picture frames. But I was especially wowed by Aaren's pyrography, the Greek word for "writing with fire."
His incredibly detailed illustrations depict nature scenes and historical subjects on small and large slabs of wood that he mills, as well as on items he crafts including the kantele, a Finnish stringed instrument.
A deer, eagle and cabin in the woods decorate a cribbage board (a game I don't understand but is popular in the U.P.). Drawings of mining and logging operations, famous figures, buildings and other landmarks, dog sledding and ski flying, Sami people, reindeer, bear and other wildlife surround maps of Finland and the U.P. He also does custom work.
I asked Aaren if I could take his picture and tried to pry a grin out of him. He shrugged and said, "People always tell me to smile, that I look mad. I say, 'I'm not mad, I'm Finnish,'" referencing the dour reputation of Finns.
On his website he chronicles, with characteristically wry Finnish humor, the trials and errors and lessons learned as he builds his business, from his first, unsatisfying attempts with a woodburning pen to creating a woodshop, acquiring a workhorse military truck for hauling supplies, setting up a sawmill, and constructing a wood-drying kiln.
After tinkering with the kiln he not only sped up the process for preparing wood for his projects, he was able to utilize that heat to dry worm castings and keep the winter's frigid temperatures at bay for his vermicomposting business. Oh, by the way, Aaren makes fertilizer from worm waste.
Learn more about the accidental worm business, the furniture and art and varied other interests of this industrious young man—remember, he's not yet 21—who calls himself a "jack of all trades" and offers to do lawn care, odd jobs and stump pulling (he keeps the stumps for his furniture) at his work-in-progress website Metsami Creations.  I need a nap just reading about it.