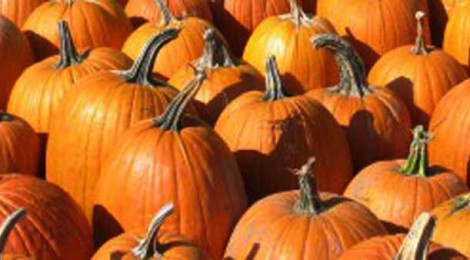 Pumpkin, native to North America, is central to our Halloween tradition, Thanksgiving menu, and a fairy tale that involves a glass slipper. The orange orbs are very much a part of the autumn landscape, especially in this region: 5 of the top 6 pumpkin growing states touch the Great Lakes.
Illinois leads the nation in pumpkin production, and harvests millions of pounds of the Jack O'Lantern material and holiday pie essential from over 16,200 acres of pumpkins. Michigan, Ohio, Pennsylvania, New York and California are the other top growers of this versatile squash.
More pumpkin fun facts:
Pumpkin Capital of the World is Morton, Illinois, the home of two pumpkin canning operations including Libby's
Libby's introduced canned pumpkin in 1929, and estimates 50 million pumpkin pies are baked with its product each year
pumpkins are low in calories and a source of potassium and Vitamin A and are rich in antioxidants
the Jack O'Lantern stemmed from an Irish legend about "Stingy Jack," who carried a glowing in a hollowed out turnip
pumpkins are 90% water
the world's largest recorded pumpkin weighed in at 2,032 pounds in California in October 2013
cucurbitophobia is a fear of pumpkins; apocolocynposis is a fear of turning into a pumpkin
I love to cook pumpkin and will share recipes here in the coming weeks
Squash any worries about calories the other ingredients add to the healthful pumpkin, and make this decadent treat whipped up by my brother Gordie from a recipe he found at allrecipes.com. Dense, rich and delish. Thanks, Gord!
Pumpkin Spice Cupcakes
Makes 24
2-1/4 cups all-purpose flour
1 teaspoon ground cinnamon
1/2 teaspoon ground nutmeg
1/2 teaspoon ground ginger
1/2 teaspoon ground cloves
1/2 teaspoon ground allspice
1/2 teaspoon salt
1 tablespoon baking powder
1/2 teaspoon baking soda
1/2 cup butter, softened
1 cup white sugar
1/3 cup brown sugar
2 eggs, room temperature
3/4 cup milk
1 cup pumpkin puree
Cinnamon Cream Cheese Frosting
1 (8 ounce) package cream cheese, softened
1/4 cup butter, softened
3 cups confectioners sugar
1 teaspoon vanilla extract
1 teaspoon ground cinnamon
Preheat oven to 375 degrees F. Grease 24 muffin cups, or line with paper muffin liners.
Sift together the flour, 1 teaspoon cinnamon and next 7 dry ingredients; set aside.
Beat 1/2 cup of butter and white and brown sugars with electric mixer in a large bowl until light and fluffy. The mixture should be noticeably lighter in color.
Add the room-temperature eggs one at a time, allowing each egg to blend into the butter mixture before adding the next.
Stir in the milk and pumpkin puree after the last egg.
Add the flour mixture, mixing until just incorporated.
Pour the batter into the prepared muffin cups.
Bake in preheated oven until golden and the tops spring back when lightly pressed, about 25 minutes. Cool in pans for 5 minutes before removing to cool completely on wire rack.
While cupcakes cool, make frosting by beating the cream cheese and 1/4 cup butter with electric mixer until smooth. Beat in confectioners sugar a little at a time until incorporated. Add vanilla extract and 1 teaspoon ground cinnamon; beat until fluffy. Frost cooled cupcakes.