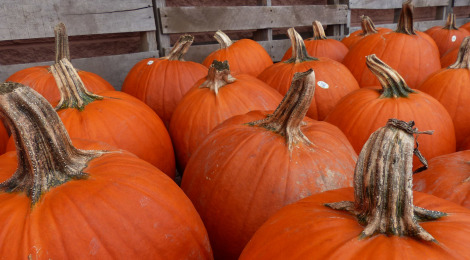 Pumpkins are central to our Halloween tradition and Thanksgiving heritage, and very much a part of the Great Lakes region's autumn landscape. Illinois, the nation's top pumpkin producer, each year harvests almost 5 million pounds of the jack-o'-lantern material and holiday pie essential.
More pumpkin fun facts:
after Illinois the top five pumpkin producing states (2012) are California, Ohio, Pennsylvania, New York and Michigan
90% of U.S. grown pumpkins come from a 90-mile radius of Peoria, Illinois
Morton, Illinois—near Peoria—is the Pumpkin Capital of the World and home to Libby's pumpkin plant
Libby's introduced canned pumpkin in 1929, and estimates 50 million pumpkin pies are baked with its product each year
pumpkins originated in Central America
pumpkins are a source of potassium and Vitamin A
the carved jack-o'-lantern stemmed from an Irish legend about "Stingy Jack," who carried a glowing in a hollowed out turnip
pumpkins are 90% water
cucurbitophobia is a fear of pumpkins; apocolocynposis is a fear of turning into a pumpkin
pumpkins are fruit
Michigan grows a sizeable number of pumpkins but also contributes some colorful characters to the world of pumpkins:
Pumpkin Ed of Frankfort, in northwest Lower Peninsula.  A self-described master pumpkin carver, Ed Moody takes his knife out each autumn to create jack-o'-lanterns so large that he needs a forklift and truck to move them.
He says he does it just for the grins that his creations bring to people, and he carves at several festivals each year.
Pumpkin Ed also decorates his yard in Frankfort and welcomes the public to stop by his home on Leelanau Avenue in Frankfort.
Tired of the traditional, loopy-looking Jack O'Lantern with triangular eyes and jagged toothy grin?  Tom Nardone's Extreme Pumpkins website will inspire you to pick up the power tools and carve the big orange orbs into wormy, radioactive, puking, bloody, electrocuted or cannibalistic creatures.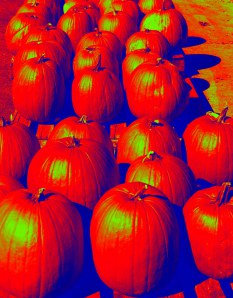 Pumpkins are a sideline for the Detroit area entrepreneur, but he's the author of three books on pumpkin carving and has showcased "the lowest of the low brow art" on national television shows. He's also set a variety of pumpkin-related world records.
Tom offers free pumpkin carving patterns, pumpkin preservation and pyrotechnics tips (thumbs up to road flares) and his pumpkin seed recipe. And some of the sickest jack-o'-lanterns imaginable in the annual Pumpkin Carving Contest he conducts. Check out his designs and hundreds of pumpkin contest entries for inspiration.
Warning: Some of the pumpkin designs are graphic, disgusting, and may frighten little kids. If you carve and display one it may cause parents to wonder whether they should take treats from you—-or even approach your house.
More candy for you.