Here you'll find recommendations, suggestions and comments from the point-of-view of Tucker the Wonder Dog, the Australian Shepherd/some-kinda-terrier mix we brought home almost-10-years ago from the Little Traverse Bay Humane Society in Harbor Springs.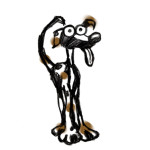 When you click on the tabs above you'll see my picture next to those places that welcome pets.
Click here for some Pet Friendly Places around the Great Lakes.