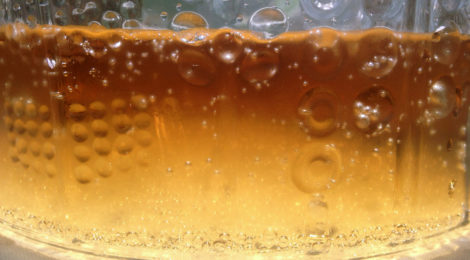 Vernors, Detroit's first and longest-running claim to soda pop fame, has been pleasing palates for 150 years. Perhaps its longevity has something to do with its versatility. The ginger ale is not only refreshing over ice, when heated it's a soothing alternative to hot cocoa or tea. It tames troubled tummies and makes a great soda when paired with vanilla (or some say chocolate) ice cream. And it adds zip and flavor to recipes.
Its fans celebrate Vernors annually on March 13, known in these parts as 313 Day (for Detroit's area code).
Living in the Upper Peninsula where, outside of the cities, food markets are few and far between, we have to get creative in substituting ingredients and make do with what we have on hand. And in our house, we usually have Vernors on hand. When I found an Emeril recipe for country-style pork ribs that called for ginger as well as cane syrup—which our pantry (and the local market) lacks—I turned to our trusty Vernors, tinkered with some other ingredients, and added another winning recipe to our file.
Click here for the Emeril inspiration, which requires boiling, marinading and then baking the ribs in the oven. I've made the dish a couple of times that way but this week tried the slow-cooker, with great results. (See slow-cooker notes, below.)
You may like the sauce a little sweeter or with more kick; just add brown sugar, cayenne or garlic as you please. The recipe is very forgiving.
Vernors Pork Ribs
Serves4-6
Ingredients
5 pounds country-style pork ribs; slice slabs into individual ribs
2 teaspoons salt
2 cups Vernors (regular, not diet)
1/3 cup molasses
1/4 cup soy sauce
1/4 cup apple cider vinegar
3 T brown sugar
1/2 cup water
2 tablespoons sesame oil
1/4 cup minced yellow onion
2 tablespoons chopped garlic
1/2 teaspoon cayenne
1/4 teaspoon freshly ground black pepper
Scallions (green parts only), thinly sliced on the bias, for garnish (or, here in da U.P., green onions)
Method
Put the ribs in a very large soup pot or kettle. Add the salt and enough water to cover them. Bring to a boil and let boil for 30 minutes. Remove from the heat and drain.
Whisk the remaining ingredients together in a medium-size mixing bowl, blending well. Put the ribs in a large, deep braising pan or roasting pan and pour half of the marinade over them. Cover and refrigerate for 2 to 3 hours, turning the ribs in the marinade every hour.
Preheat the oven to 350 degrees F.
Cover pan with foil and cook, basting with the reserved marinade and turning the ribs every 15 minutes, for 1 to 1 1/2 hours.
Remove the ribs from the pan. Garnish with sliced scallions
Slow Cooker Version
Allow 6-8 hours on LOW.
Follow the recipe above with these changes:
After boiling and draining the ribs, place in slow cooker with the marinade. Turn ribs to coat all. Cook at LOW for six hours. Midway, turn ribs to be sure sauce is spread throughout.
Ribs may be fall-off-the-bone done at six hours, or may need more time. Did I mention it's a very forgiving recipe?
Click here for the Great Lakes Gazette Recipe File of Vernors dishes. 
Story and photos are copyright Kath Usitalo.