"Oz The Great and Powerful," the 2013 Disney movie that is a prequel to the 1939 classic "Wizard of Oz," was mostly made in Michigan by director Sam Raimi, who hails from the Detroit area.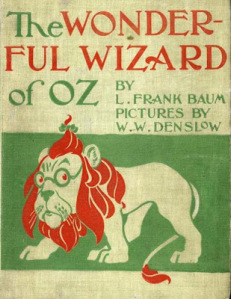 But did you know that Michigan has another Oz connection?
When L. Frank Baum, who wrote The Wonderful Wizard of Oz, lived in Chicago he and his wife and four sons summered at Lake Macatawa, near Holland and the Lake Michigan shore, from 1898 to 1910.
They called their cottage "The Sign of the Goose" in honor of Baum's first major success story, Father Goose: His Book, a wildly popular children's book published in 1899. Baum built furniture for the cottage and incorporated images of geese in the decor, including a stained glass window. The house was destroyed by fire in 1927.
The evidence is slim but some say that key elements of The Wonderful Wizard of Oz, which was published in 1900, were inspired by Baum's observations of people and places in Michigan. (Yellow bricks made in the Holland area paved the way for the famous road to the Emerald City?) It's more likely that references in Baum's subsequent 13 Oz stories were based on actual relationships and locations from the area and that era.
And there's no doubt that the resort community was the inspiration for his 1907 spoof, Tamawaca Folks: A Summer Comedy. Reportedly some folks were not amused.
You learn more in this Holland Sentinel story or pop for the photo-laden book published in 2013 by William Bollman, 1899: L. Frank Baum's Oz-Inspiring Macatawa Park.
More Great Laker trivia: Baum was born May 15, 1856 in Chittenango, New York an Erie Canal town near Syracuse. He moved around and dabbled in a number of ventures, eventually landing in Chicago by way of Aberdeen in the Dakota Territory.
The Baums moved from Chicago to Southern California, hoping that the more favorable climate would benefit his poor health; Baum died there in 1919 just shy of his 63rd birthday.
Mark your calendar and dig out your ruby slippers:
The West Michigan city of Ionia hosts its Wizard of Oz Festival June 17-18 because because because because because…someone thought it would be a good theme for a sidewalk sale? But ya gotta love the idea of paying the 1939 price—a quarter—to see the classic film at the circa 1931 Ionia Theater.
The Midwest Wizard of Oz Fest will be held September 9-11 in Tinley Park, Illinois. It originated in 1982 in Chesterton, Indiana—which has no ties to anything Oz—to "pick up the spirits" of the citizens.
OzCon, The International Wizard of Oz Club National Convention August 5-7, 2016 in Philadelphia.
Chittenango, New York celebrates its famous son Baum each spring at OZ-Stravaganza; the 40th festival will be in 2017.
The Wizard of Oz Festival is held each year around Judy Garland's June 10 birthday in her hometown of Grand Rapids, Minnesota, You can visit her childhood home-turned-museum all year long.
Visitor Info Clicks: