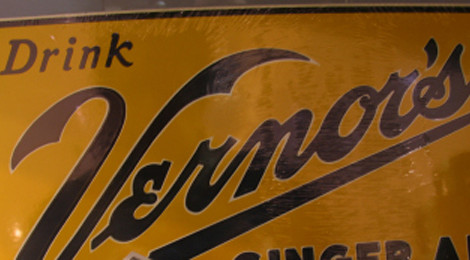 One fan of Detroit's own Vernors ginger ale proclaimed on a Facebook page: "Even our soft drinks have an attitude."
Though I'm suspicious of that FB poster's origins (in these parts we consume "pop," not "soft drinks") anyone who's tried Vernors knows that this ginger ale doesn't have anything in common with the pale "dry" stuff used as a highball mixer.
The caramel colored carbonated beverage is in a glass of its own—more bubbles, more ginger flavor, sweeter—and did I mention the bubbles that leap from the glass to tickle your nose as you drink it, and tingle all the way down?
It's "Deliciously Different," as Detroit pharmacist James Vernor claimed when he concocted the blend of 19 ingredients in an oak cask in 1866.
That's right. Detroiters have been sipping Vernors since the Civil War era.
Legend has it that Vernor mixed a batch of the beverage in 1862, marched off to do battle, and on his return found a four-year-aged bubbly drink like no other. It became so popular that Vernor left his Woodward Avenue pharmacy to open a soda fountain shop and concentrate on making the pop.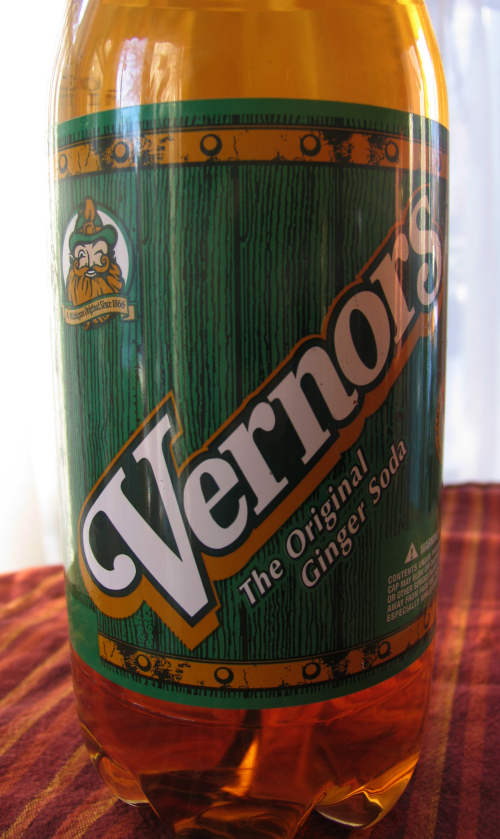 Vernors devotees drink it straight up, on the rocks, and warmed, to chase the chills. I understand it goes well with Captain Morgan's Rum.
Vernors Ham recipe from Detroit's own Aretha Franklin (made here for Christmas, but great for Easter, too). My friend Marcia sent me a copy of an old Vernors recipe booklet that includes Baked Ham a la Vernors—check it out below.
Vernors Spice Cake has its fans, and I've made salmon with Vernors and substituted Vernors for beer in my version of onion rings with delish results.
Hey, the esteemed Porcupine Press, published in the Upper Peninsula media metropolis of Chatham, features my Vernors onion ring recipe in the latest issue. Now that's cred.
All that bubble action would probably make Vernors good for a foot bath, too.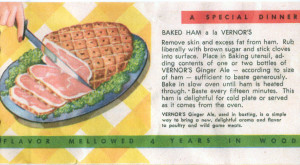 Then there's the mystery of the Boston Cooler. The soda fountain treat, Vernors poured over vanilla ice cream, is a Detroit original but someone named the float after a city far from its home.
Vernors, now a brand of the Dr. Pepper Snapple Group, Inc. has a dedicated following and, at one time, inspired National Vernors Day on March 13.
That's 313. For Detroit's area code. Get it?

Buy a bottle or a case of Vernors (somewhere along the line the apostrophe fell off) and listen in while enjoying this taste of Detroit your way.
With a side of attitude.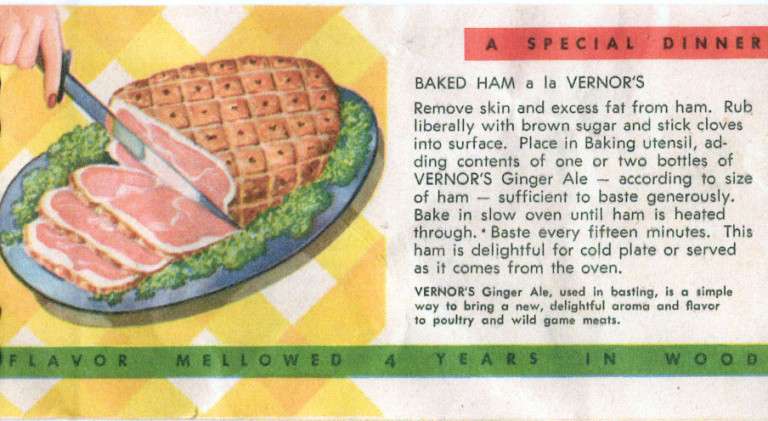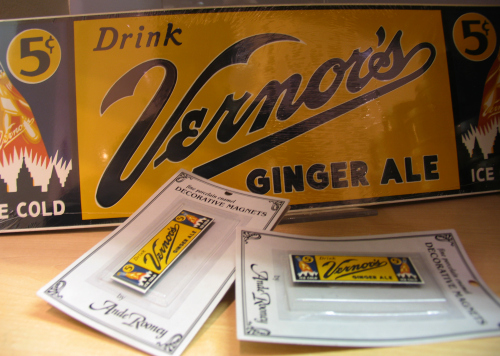 Vernors souvenirs at the museum shop of the Henry Ford Museum in Dearborn
All photos copyright Kath Usitalo.