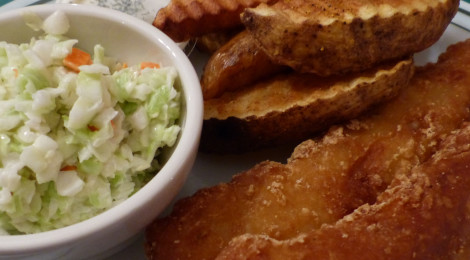 Now that TJ and I (and Tucker Dog) have relocated to the Upper Peninsula, it's easy to find a fish fry at anytime of year. Or, if you prefer, to make one of your own any day of the year. Freshly caught Great Lakes whitefish and trout are plentiful. But there's something special about the community, camaraderie and purpose of the fish dinners served at parishes and halls on the Fridays of the Lenten season.
I am so glad that, before I moved and after talking about it for years, my friends Tania and Minnie and I finally got together to take part in the tradition at Sweetest Heart of Mary Roman Catholic Church. The parish anchored a Polish neighborhood in Detroit beginning in 1889, and the beautiful church building was dedicated in 1893. Effective June 2013 the church became a part of the Mother of Divine Mercy parish, along with nearby St. Josephat, also established in 1889, and St. Joseph, which dates to 1855.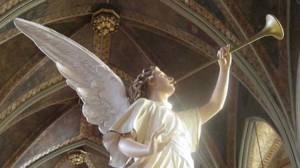 The parish structure has changed and the neighborhood is no longer a Polish enclave, but the traditional Lenten Fish Fry remains. We knew the dinner was a popular event but were a bit surprised to see the line of folks shuffling toward the Parish Hall. It was a short wait, though, and we were entertained by a young man, Sam, playing the accordion as we snaked through the tent-covered porch to the entrance. I even saw some familiar faces in the crowd—a nice surprise! It seemed as though everyone but we three had been there before.
Once inside a swarm of chipper volunteers—many wearing "Got Fish?" T-shirts—efficiently took orders and directed us to a choice of dining rooms, on the main floor, second level or basement ("It's not the basement, it's the Bistro," one volunteer said cheerily).
We headed upstairs, sat at a communal table for eight and were soon joined by a young family and a young couple (hey, why is everyone I refer to "young" all of a sudden?).
While waiting for our dinners to be delivered we three gal pals had a chance to visit and nibble Goldfish crackers placed on each table. The strolling Sam came by with his squeeze box and added nice background music.
A young lady arrived with our dinners of beer battered cod, plus a plate of pierogi and fried dill pickles, and we were happy. We somehow managed to tuck away the three pieces of deep-fried, light and crispy fish (delish!) and Cole slaw, and shared most of the sides (French fries, baked potato or macaroni and cheese). Coffee, tea and homemade desserts rounded out the meal.
It was great to see so many people enjoying the food and fellowship—and so many volunteers, including kids and young adults, making it happen—at this historic site in the city.
Sweetest Heart of Mary's Lenten Dinners are served from 3-8 p.m. beginning the Friday after Ash Wednesday (Friday, February 12, 2016) through Good Friday (March 25). In addition to the fried fish there are baked fish, fried shrimp and pierogi dinners plus sides and desserts on the menu.
At most locations dinners begin at about $9 and you can add on as you wish..
You don't have to be Catholic or Christian to enjoy the tradition; check your community newspapers and websites and go fish!
Tips: Arrive early as some places have been known to run out of food.
Plan to pay in cash.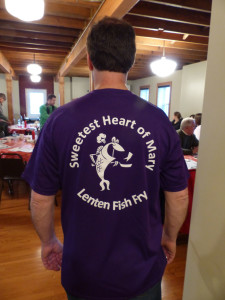 Sweetest Heart of Mary
4440 Russell St., Detroit
Other highly rated fish fries in the Detroit area include:
St. Francis D'Assisi -St. Hedwig: 11 a.m.-6 p.m. in the St. Francis Hall, 4500 Wesson, Detroit
Gaelic League of Detroit: 5-8 p.m. at the Irish American Club on Michigan Avenue in Corktown
VFW Bruce Post #1146: 4-8 p.m. on Jefferson Ave. in St. Clair Shores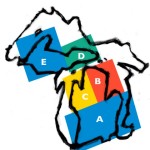 All are located in Area A
This post has been updated from the original, which ran in March 2013. Wish I could be there again this year with Tania and Minnie—not sure if Sam the accordion man will be playing, but the fish fry will be just as good and the volunteers as willing as they have been for oh, so many Lenten suppers at Sweetest Heart of Mary Parish in Detroit.
Story and photos are copyright Kath Usitalo, and may not be used without permission.