True Romance: 1993 R rated dark comedy written by Quentin Tarantino and directed by Tony Scott, starring Christian Slater, Patricia Arquette, Dennis Hopper, Val Kilmer and Gary Oldman, with Brad Pitt, Christopher Walken, and a half dozen other familiar mugs.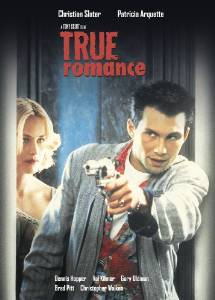 It starts innocently enough: birthday boy Clarence (Slater) and arranged "date" Alabama (Arquette's novice hooker) fall madly in love and get married. Just don't expect hearts and flowers from writer Quentin Tarantino of "Inglourious Basterds," "Pulp Fiction" and "Reservoir Dogs" fame.
This romantic tale begins in gritty Detroit with a tour of some of the city's seedier sites (and stand-ins for the same). Clarence, after consulting with Elvis in the bathroom, decides to salvage his bride's honor (or at least her belongings). Following close encounters with guns, drugs, and Dennis Hopper (as Clarence's dad) the newlyweds leave in a hurry for Los Angeles and even bigger mischief and mayhem. A colorful cast of characters lends solid support.
The film's most flattering view of Detroit is from Hopper's mobile home, parked on a prime piece of pre-Riverwalk Detroit Riverfront real estate. Most of the scenes of the circa 1993 Motor City are the kind that would make you want to hop in your old Cadillac and head for California, too–with or without angry drug mob-types on your tail.
As Alabama says, "If you gave me a million years to ponder I would never have guessed that true romance and Detroit would ever go together."
Look beyond the graphic violence, overriding influence of illegal substances, kooky clothes, odd family relationships and dangerous lifestyles, and at the heart of this film you'll find a couple of crazy kids and a good old fashioned love story.
Related Post: Round out the romance with some red kernel, non-GMO Bur Oaks Farm popcorn from Ann Arbor for munching during the movie.