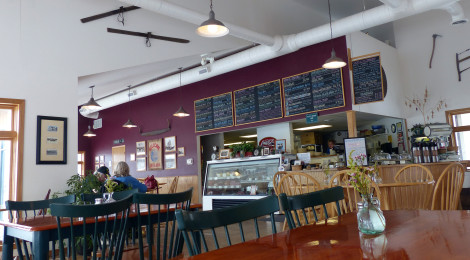 The Upper Crust Deli in Manistique is one of those pleasant places that radiates warmth on even the most frigid winter's day. Which is when TJ and I chose to stop at this Upper Peninsula cafe tucked away off U.S. 2 at the marina at the Trader's Point development on Lake Michigan.
I've known about this gem of a waterfront spot since my cousin Ellie tipped me off to it when it opened in 1999. But did we ever take the time to visit in summer, when the warm breezes are blowing and the marina is bustling with activity?
No, we waited until the Manistique River was frozen over—heck, most of Lake Michigan was frozen over—and we had to pick our way across the icy parking lot to the deck leading to the window-walled restaurant.
Fortunately, the sun was shining and the interior of the dining room, alive with the light from those huge windows, was warm and inviting. We arrived late in the lunch hour so the bunch that filled many of the tables was wrapping up the mid-day meal.
We'd intended to chase the chill with just soup, but were swayed by the long list of sandwiches and the daily special—a cup of soup and 1/2 sandwich for just $6.99. And that meant a choice of any sandwich off the menu, not limited to a measly few sad offerings, as many joints do.
The every-Tuesday soup of the day is potato with bacon and the second soup, the "cook's choice," was tomato florentine. We ordered one of each along with half of the Paul Bunyan roast beef sandwich and half of the Georgia Reuben made with smoked turkey.
As we ate, gazing out at the snow-blanketed deck and commercial fishing boats uncharacteristically immobilized by ice, we agreed that everything that we sampled—even the oyster crackers seasoned in-house—was delish. (We did favor the reuben, but maybe it was because we appreciated the warmth of the grilled sandwich on such a chilly day.)
We left with a couple of treats from the "day old" basket, marked at half-price. Back at Blue Skies, with a mug of hot tea in hand, I savored the cranberry walnut cookie. It melted in my mouth.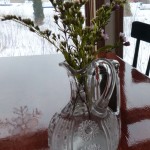 If only the snow and ice would disappear so easily!
The Upper Crust is a little hard to find but worth the effort, even in the winter.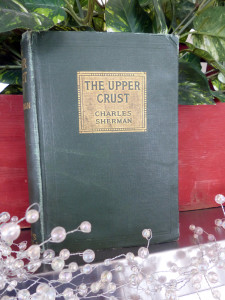 Through winter the cafe is open for lunch with abbreviated hours and closed on weekends; open 7 days from Memorial Day to Labor Day.
Upper Crust Cafe & Deli
375 Traders Point Drive
Manistique, Michigan
(906) 341-2253