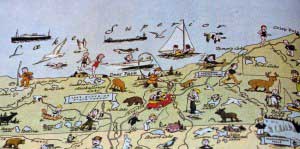 "Happy, Carefree Days and Restful Nights…big fish—and lots of 'em…scenic beauty…clean air…No Hay Fever!"
Promises made and kept, according to tales told throughout The Best of the Lure of the Land of Hiawatha, a compilation of brochures originally produced in the 1930s by the Upper Peninsula Development Bureau to attract "vacationists" (I like that term) to Michigan's northernmost region.
The ads and editorial copy offer insight into travel and tourism of the period, and early efforts to establish the U.P. as a "Vacationers' Paradise" when the Mackinac Bridge was just a gleam in politicians' eyes. Until 1957 when the five-mile suspension bridge connected Michigan's two peninsulas, travelers from the mitten-shaped Lower had to board ferries to cross the Straits of Mackinac to the U.P.
The oversized, soft-covered book includes "True story" vacation accounts that provide a sense of time and place. The advertising messages are simple and direct: "Thousands who have vacationed here before are coming again this summer. You had better join them!" orders an ad for Munising.
About its decision to promote the annual smelt run the U.P. Development Bureau confesses: "Residents, for years, have been dipping these fish from the streams…and then, we suddenly awakened to the fact that others might like both the sport and the fish."
Brilliant!
Ads throughout the book proclaim the U.P. a hay fever-free zone; without qualm or qualifiers Marquette pointedly promotes itself as a "Hay fever refuge. None develops; cures those who come."
The upbeat messages from the years 1935, '36 and '37 all but claim that the U.P. was the cure for The Great Depression, too. "Come to Keweenaw Land…and be happy with us." Crystal Falls was "The Haven of Rest and Happiness." Gogebic County was "Famed for Happy Vacations." And who could resist the cheery, "L'Anse is so delightful…come in and be Our Happy Guest."
Colorful maps of U.P. counties are peppered with original cartoon characters playing golf, swimming, skiing, fishing, taking pictures, touring by auto, and just "loafing." One of my favorites is a Betty Boop-ish hunter powdering her nose, gun propped against a tree.
This 100-page trip back in time was published in 1996 by Mary Earle, whose family has deep roots in the U.P. Her family's story is worth its own chapter in Upper Peninsula history, but briefly, she assembled the "lure book" from materials uncovered in the archives of the IXL Historical Museum in Hermansville, west of Escanaba.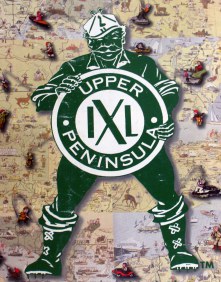 Mary's great-grandfather, lumberman C.J.L. Meyer, founded Hermansville and the IXL (I Excel, get it?) Flooring Company, where he developed the tongue and groove hardwood flooring method. His offices—now the museum—stand much as they did in the 1880s, and that is where the vintage brochures were discovered.
I was excited to see a handful of copies of the out-of-print book at The Old Bank, a hip general store in an 1890s bank building in beautiful downtown Newberry, Mary Earle's hometown. The Old Bank specializes in Michigan made goods, including Yankiwi soaps and skin care products, and organic and specialty foods, kitchenware, antiques and gifts.
E-mail proprietor Sharon for a copy and she'll send it to you ($19.95 plus shipping). E-mail: old bank@sbcglobal.net
The Lure book is also (usually) available at the wonderful independent Horizon Books in Traverse City as well as the store's Cadillac and Petoskey locations. Call first to make sure it's in stock; it's a popular item (800-587-2147).