It's a candy store for book lovers.
The long, tall shelves at Michigan News Agency in downtown Kalamazoo are packed with 15,000 neatly organized paperbacks, 6,000 magazines and stacks of newspapers to satisfy readers who like to flip pages and clip recipes and scribble on crossword puzzles in ink.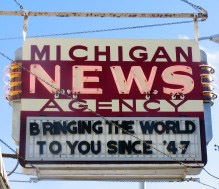 There are enough of those folks around to keep the newsstand's neon sign lit and shop owner Dean Hauck placing her weekly order for new publications, including customers' special requests.
"Pops started it in 1947," says Dean of the Michigan Avenue landmark store established by her stepfather, Vincent Malmstrom.  She worked there as a kid—a dream job for an avid reader who had her pick of the bookshelves.
After a career as an English teacher Dean took over the newsstand from her Pops and has worked to strengthen community ties and maintain relationships with the third generation of customers.
To get young ones interested in reading she advises allowing them to choose their material. "Anytime a kid can pick out a book for themselves they'll stick with it," says Dean.
And a tip for everyone: "Don't read the back cover (of the book); it'll tell you too much. Read the first 10 pages and if it captivates you, run with it."
Dean has made Michigan News Agency a scene for author talks, artist visits, and something she calls the Creative Endeavor, providing shelf space for works by local writers that might not otherwise have the exposure. "We work with the community to display the creative endeavors of the community."
With the help of student employees (this is the home of Western Michigan University and Kalamazoo College) the store is open 365 days a year, but Dean is likely on site tending to business or tracking down a hard-to-find publication requested by a customer.
The fact that she's still in business—an independent newsstand selling precious print publications while big bookstores have failed—is testament to her extraordinary service and ability to nurture a community in the narrow shop in Kalamazoo and online at Facebook.
"That local support is what makes this store a store," says Dean.
For ideas on where to eat, stay, shop and play in Kalamazoo check out the free Great Lakes Gazette Touraide!
Michigan News Agency 308 W. Michigan Ave., Kalamazoo, Michigan
(269) 343-5958
Open at 7 a.m. daily
Located in southwest Michigan in Area A on map
P.S.
Dean still sells candy, too, just as her Pops did when he opened the newsstand nearly 70 years ago.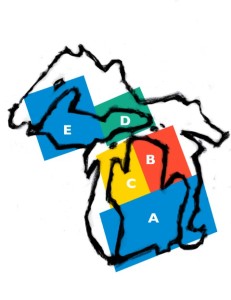 Visitor Info Clicks:
Kalamazoo 
Pure Michigan
All stories and photos copyright Kath Usitalo unless otherwise noted
Updated from the story that first appeared on Great Lakes Gazette in June 2013.