Big Band leader Glenn Miller made the city famous in the 1940s with the hit, "I've Got a Gal in Kalamazoo," but now that the Southwest Michigan city has a reputation as one of the top craft beer towns in the country we could be singing, "I've got an ale in Kalamazoo."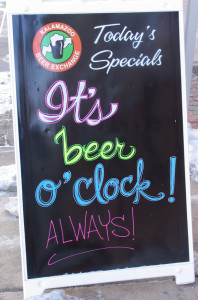 The name Kalamazoo is one-of-a-kind but there are several explanations for it, and none have anything to do with beer. All are rooted in the native languages of the First Peoples of the area, and popular interpretations are connected with the river that runs through it, ranging from "boiling pot" to "mirage" or "reflecting waters."
Once the largest celery-growing area in the world, Kalamazoo was also the country's premier paper-producer and a cigar-making center. It was the home of Gibson Guitars and the late, great Checker Motors Corporation, which built the iconic and boxy Checker Cabs.
Kalamazoo is convenient to wineries, a bounty of good restaurants and enough diversions to make a pleasant getaway. It's a college town: Western Michigan University is the largest of five schools of higher education in the area.
The calendar is full of events, especially throughout the warm-weather months (though you'll have to visit in January for the annual Kalamazoo Beer Week).
Use Touraide as a guide to places where we had positive, first-hand experiences. This is not a comprehensive inventory of all there is to see and do, but selective and subjective recommendations based on what we've actually done.
To read stories on many of those places click on the red highlights. Check back for updates as do more exploring and share more discoveries!
Touraide: Kalamazoo
Check into Kalamazoo House Bed & Breakfast, the handsome 1878 home of a local cigar maker and businessman in a convenient downtown location.
If it's a first Friday join the Art Hop to galleries around town, including the  West Michigan Glass Art Center and artist studios at the Park Trades Center. Then enjoy dinner and an evening at O'Duffy's Pub, Kalamazoo's only Irish pub.  
After a fabulous Kalamazoo House breakfast stroll next door to the Kalamazoo Institute of Arts, which hosts special exhibitions and houses a permanent collection of Asian and American art including works by Louis Comfort Tiffany.
Browse the shops and galleries of the Kalamazoo Mall along Burdick Street, which made news in 1959 when downtown streets were closed to traffic to create the first pedestrian mall. I popped into a couple of the independent shops—I wanted one of everything at Earthly Delights, filled with beautiful things for the home, garden and body.
My lunch at The Union Cabaret & Grille hit the spot: a cup of Sweet Potato Bisque, half a panini sandwich and the raved-about portobello fries—thick strips of mushroom breaded and served with curried mustard sauce. As the name implies, Union Cabaret is known for its evening entertainment (usually Wednesday through Saturday).
Central City Tap House, also on the Mall, features a menu designed to go with the 20 beers on tap and 75 bottled beers; I had a delish burger at dinner one night, but the wood-fire pizzas looked tempting. (Both restaurants are a part of the locally owned Millennium Restaurant Group.)
Learn about local history and products like Gibson guitars that were made in the area at the Kalamazoo Valley Museum. The free museum's permanent exhibits include "Mystery of the Mummy," starring an Egyptian mummy acquired in 1928.
Take in the entertainment offered almost nightly at the Old Dog Tavern, which lives up to its aim to be "all things eclectic, odd and quirky." I had a pretty good pasty with my beer—I chose the traditional meat pie, not the Old Dog's Indian Spiced version or The Jack Russell with jalapenos, green bell peppers and ranch dressing.
See if there's a book signing, reading or other event at the Michigan News Agency, a family owned and operated bookstore and newsstand since 1947. Even if there's not, be sure to stop in at this disappearing breed of store, open seven days a week.
Find architectural salvage, from windows to bathroom fixtures at The Heritage Company, and a variety of treasures from some 20 dealers at the adjacent Kalamazoo Antiques Market.
It's a short stroll to an interactive adult beverage experience at the Kalamazoo Beer Exchange in the handsomely renovated Globe Building, where real-time demand dictates the price of the 28 or so beers on tap.
No visit to Kalamazoo would be complete without a stop at Bell's Brewery for a beer at the Eccentric Cafe. Larry Bell founded Michigan's movement of independent craft breweries in 1985, and his is still a leader in the industry. Bell's hosts an eclectic line-up of entertainment on indoor and outdoor garden stages.
Sometime during your visit make your way to Water Street Coffee Joint, a cozy cafe across the street from Bell's. Housed in a 1934 gas station, Water Street roasts its own beans and serves great java—I just had my usual, a black cuppa joe—but the fancier drinks get raves and the housemade pastries, soup, salads and sandwiches tempted.
Enjoy a leisurely breakfast at the Kalamazoo House and take off for the Air Zoo, a multi-dimensional, interactive showcase about flight and space.
If you're a guitar fan you'll want to schedule your trip to Kalamazoo to include a Wednesday for the free, weekly, 1 p.m. tour of the Heritage Guitar factory. The company has been handcrafting instruments at the former Gibson Guitar Corp. address since the original company moved to Nashville.
Getting There:
Kalamazoo is located in southwest Michigan just off I-94, about two hours from both Detroit and Chicago in Area A (map below).
It is on the Amtrak rail line; the train station is conveniently located in downtown Kalamazoo.
The Kalamazoo/Battle Creek International Airport is about 15 minutes from downtown.
Visitor Info Clicks:
Discover Kalamazoo
Pure Michigan
All stories and photos copyright Kath Usitalo unless otherwise noted