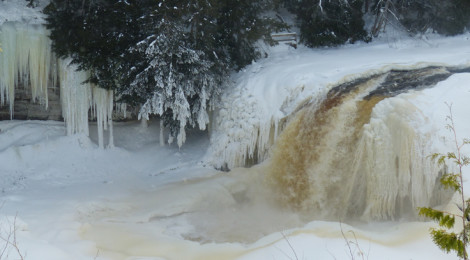 A month after we relocated from the 313 to Blue Skies, our place in the Upper Peninsula, we had our first visitor. Son Graham announced that he was making a quick weekend trip and we were thrilled.
And then we realized we had to clear a path to his bed through the towers of unpacked boxes, stacks of crates and mounds of bags. And we worried, as parents do, about his solo drive through the winter weather. More than once this year extremely high winds and blowing snow have caused the Mackinac Bridge and US-2 (THE highway to our town) to be closed to traffic.
Thankfully he made it safely, arriving late Friday evening. Saturday was cold but clear so we took advantage of the picture-perfect conditions and decided on a day trip to Tahquamenon Falls State Park , about an hour's drive from home.
It's one thing to visit these rushing waters—the largest of Michigan's 100+ waterfalls—in the summertime, when the park is buzzing with tourists. In the winter, although we saw a lot of snowmobilers, cross-country skiers and snowshoers out and about, the heavy blanket of snow helped muffle the sounds and create a more peaceful experience.
We took the short hike along a groomed trail to the Upper Falls, paused by the roaring bonfire to chat with the park rangers, and saw the lanterns set out for that evening's guided snowshoe hike. If only we had planned ahead we could have joined that excursion (there are loaner snowshoes for those without), but we had Tucker the Wonder Dog along for the ride and couldn't leave him in the car that long. Another outing to add to our "To Do" list.
We peeked into the bustling Tahquamenon Falls Brewery and Pub, but knew that we wouldn't be able to enjoy a relaxing meal (and a housemade beer) with Tucker shivering in the vehicle.
So we headed home and felt good about getting out to enjoy the elements, if only for a short time. Short and sweet, like Graham's visit to Blue Skies.
The next day as he headed back to the 313 we, like old folks in a movie, watched wistfully and waved goodbye from the porch. All that was missing was a handkerchief for dabbing at the eyes. After chipping the icicles from my cheeks I vowed to finish unpacking so that by the next visit I will be prepared with hanky in hand.
Tahquamenon Falls State Park is located in the Eastern Upper Peninsula, about a half hour's drive north of Newberry. The Michigan State Park Recreation Passport is required for entry.
The Brewery and Pub closes for short periods in the off season; call to check for hours at (906) 492-3300.
Related: The Legend of Tahquamenon Falls
Visitor Info Clicks:
Located in Area D