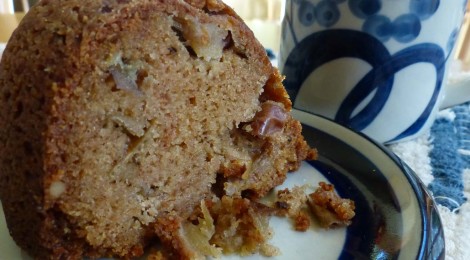 Sifting through my stack of cookbooks I came across a little gem from the kids' days at Our Lady Star of the Sea School in Grosse Pointe Woods.
The limited edition (we have book #247 of 500 printed) "All-Star Recipes" was a fundraiser for the school and features favorites by teachers and staff at the school and Parish.
I had some Macintosh apples that needed a purpose and was inspired by this recipe submitted by Barb Drader, who worked in the Parish office. It's easy, because the apples don't need to be peeled (your choice), it's moist and a flavorful—a simply delish warm-up on a cold winter's day. An all-star keeper.
Apple Nut Cake
By Barb Drader, All-Star Recipes
2 cups sugar
1-1/2 cups vegetable oil
3 eggs
1/2 teaspoon salt
1-1/2 teaspoons baking soda
1/2 teaspoon cinnamon
1/2 teaspoon nutmeg
1/4 teaspoon ground cloves
3 cups chopped baking apples (okay not to peel them)
3 cups flour
1-1/2 cups chopped walnuts or pecans
Put everything except the nuts (yes, the diced apple, too) into a mixing bowl and mix on low for 30 seconds, then on medium for 4 minutes.
Fold in the nuts.
Spoon into a greased and floured tube or Bundt pan or 2 loaf pans. Bake at 350 degrees for 60 minutes or until a tester comes out clean.