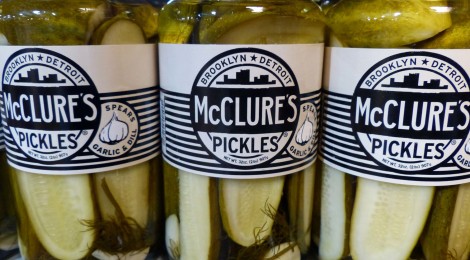 With the unofficial end of summer this long Labor Day weekend it's time to fire up the grill and bring on the seasonal menu of burgers, brats, and dogs with a choice of mustard, ketchup, pickles and relish on the side. Stop yawning and liven up your picnic with McClure's Pickles and McClure's Relish, made right here in Detroit.
We met Joe McClure a few years ago at the Green Street Fair in Plymouth, where he was offering samples of the family's hot and spicy pickle products. They're loaded with nothing but the right combination of cucumbers, garlic, peppers, dill, vinegar, water, and salt.
Joe said that he and his brother Bob grew up making Great Grandma Lala's pickles at home, and in 2006 cooked up the idea of sharing the brined cucumbers with the world. Now the McClure's line includes relish, Bloody Mary Mixer and delish garlic dill pickle crinkle cut chips, which are produced by Detroit's own Better Made snack company.
The products have earned rave reviews from, among others, the New York Times. Martha Stewart said, "It's rare to find a line of prepared foods in which every item is delicious. McClure's is one."
McClure's is a hands-on family operation that handcrafts and packages the goods at a Detroit plant.
Joe, who recently earned his doctorate in physiology from the Wayne State University Medical School, handles the Detroit operation with mom Jennifer (she started making the pickles as a kid with her father) and dad Mike, who contributes experience in making countless jars of pickles in the home kitchen plus grocery and management expertise.
Brother Bob, an actor and writer who had been living in Brooklyn and worked that market, recently moved back to Detroit with his wife Natalie and toddler and is actively involved in the business.
(When Paige and I were NYC we were excited to see a McClure's booth at the Brooklyn Flea, a Sunday market along the East River.)
Buy McClure's products online by the case and find them on the shelves of food markets in many states, at farmers' markets and in Whole Foods and Williams-Sonoma stores.
Check the website for recipes; you may be tempted to ditch the burgers this weekend and throw the pickle pizza on the grill.
Here's a cool video about the McClure family biz from Dark Rye/Whole Foods.