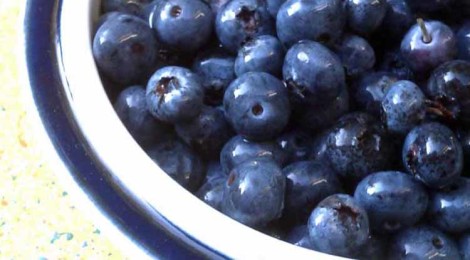 Hungry for a taste of summer? Mix up a batch of classic blueberry muffins and serve with a jam made from local berries.
Here's a reliable recipe from my well-worn cookbook, Michigan Summers: Tales & Recipes, edited by Carole Eberly of Eberly Press. I've also given her Michigan Cooking..and Other Things a workout. She includes stories and history along with recipes that utilize local foods.
Click here to check out the list of blueberry festivals and places to pick your own fresh fruit.
Blueberry Muffins
From Michigan Summers: Tales and Recipes
INGREDIENTS
2-1/2 C flour
2-1/2 teaspoons baking powder
¼ teaspoon salt
¾ C sugar, divided
1 C buttermilk
2 beaten eggs
½ C oil
1-1/2 C blueberries
METHOD
Sift together the flour, baking powder, salt and ½ cup sugar. In a separate bowl, combine the buttermilk, eggs and oil. Pour into the dry ingredients, mixing only until dry ingredients are dampened. Gently fold in berries (frozen ones work great). Spoon into greased muffin tins, filling 2/3 full. Sprinkle with remaining sugar. Bake at 400 degrees for 20-25 minutes. (Makes 12-16.)
My notes: instead of butter milk I added about one tablespoon white vinegar to one cup of milk, let it sit while I prepared dry ingredients. I used the entire carton of blueberries—about 2 cups. I used paper baking (cupcake) cups and made 18 muffins.
More blueberry recipes:
All photos and stories copyright Kath Usitalo unless otherwise noted