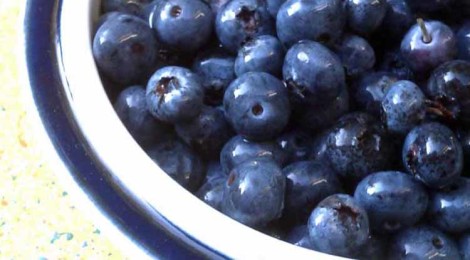 Got blueberries? Get Grunt. It's a recipe from a wonderful book published by the Saugatuck-Douglas Historical Society.
The Village Table by Stacy Honson and Kit Lane tells the food story of the West Michigan resort community through facts, photos, anecdotes and more than 200 recipes.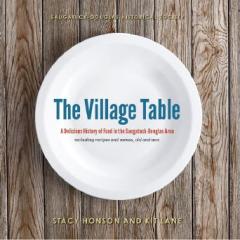 The 144-page book, which covers the culinary evolution of the area from its pioneer era to fishing, farming and resort days, is available from the Saugatuck-Douglas History Museum (or email to order at: info@sdhistoricalsociety.org).
The story by Katherine Wilcox, who contributed the family recipe for Blueberry Grunt, explains that the dessert's funny name comes from the sound that the bubbling fruit makes as the pie cooks on the stovetop.
We heard more of a sigh, which is the sound we made when we enjoyed the Grunt while still warm.
This July celebrate both National Blueberry Month and National Ice Cream month by enjoying this sweet treat with a dab of vanilla ice cream. Sigh.
Blueberry Grunt
Katherine Wilcox, from The Village Table
INGREDIENTS
4 cups fresh blueberries
1 cup water
1 cup sugar
1-1/2 cups flour
2 tsp baking powder
1 tsp sugar
2 Tbsp grated orange peel
1/2 tsp cinnamon
1/2 tsp salt
3/4 cup milk
METHOD
Check through the blueberries for any bad berries and discard.
Combine the blueberries, water, and sugar in a medium skillet.
Cook over medium high heat until boiling.
Turn heat down and simmer uncovered for 20 minutes
While berries are simmering, combine the flour, baking powder, one teaspoon sugar, orange peel, cinnamon, and salt in a bowl and stir to mix evenly.
Add the milk and stir just enough to moisten the dry ingredients. The dough will be fairly thick.
After the blueberries have simmered for 20 minutes, drop the topping mixture a tablespoon at a time on top of simmering berries in the skillet. Cover the skillet and cook for 15 minutes or until the dumplings are done.
Do not remove the cover during the cooking time.
If you want to brown the top, put it in a 375 F oven for a few minutes. (Note: the oven browning wasn't working so I put it under the broiler for just a bit.)
When the grunt is done, spoon it out of the skillet on to a plate, serving while it is still warm.
More blueberry recipes:
All stories and photos copyright Kath Usitalo unless otherwise noted