Pasties are to the Upper Peninsula as Starbucks is to a trendy neighborhood. US-2, the main east-west highway along the south coast of the U.P., is dotted with shops promoting the hearty meat and vegetable pies.
We've sampled many pasties over the years and have found one that comes close to the pie of our dreams in beautiful downtown Naubinway at Hiawatha Pasties, on US-2 just about 45-minutes west of the Mackinac Bridge.
The crust is flaky, the mix of meat and veggies is proportionate, and the overall taste is like Grandma used to make.
Just a couple of employees at the unassuming pole barn of a shop turn out between 400-600 pasties each day. I couldn't believe it, given the health craze (or talk of it) but the owner says that business is booming.
You can find Hiawatha pasties hot or frozen at the Naubinway shop and in the freezer at Vallier's grocery store across US-2, as well as at other grocery stores in the UP. Hiawatha makes a chicken and a veggie version, but we've only eaten the meat pie.
Pasties come in two sizes and cost between $3 and $4 each (TIP: Go large). If you find yourself in a Michigan hospital or prison, you may be served the small version because Hiawatha supplies the pies to some of those (unnamed) institutions.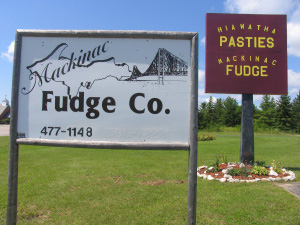 This little company also makes creamy fudge in the front of the shop under the name Mackinac Fudge Company. Rich, fresh, and just $4 a slab. More about the fudge later.
Hiawatha Pasties
US-2, Naubinway, Michigan
(906) 477-1148
Located in Area D on the map