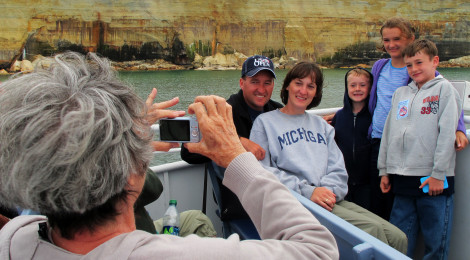 Ask any sea kayaker who's been there: paddling is the best way to experience Pictured Rocks National Lakeshore on Lake Superior in the Upper Peninsula. The 15-mile stretch of colorful sandstone walls—up to 200 feet tall—marked by minerals and sculpted by nature into shapes, coves and caves were interpreted and respected first by Native people in their canoes, and then by explorers and fur traders.
But the largest Great Lake is deep, cold, unpredictable and demanding. For those folks who aren't up to that challenge in a one or two-person craft there are several ways to get out on the water and enjoy the sights, all departing from Munising, the western gateway to the 43-mile-long National Lakeshore.
Pictured Rocks Cruise
The most leisurely way to see the rock formations is on a Pictured Rocks Cruise. The company operates choice of three narrated tours, all under three hours in length, from mid-May through mid-October aboard a fleet of five sightseeing vessels that accommodate up to 150 passengers.
The late afternoon and sunset tours are recommended for shutterbugs who want to capture the nice light off the rock formations including Indian Head, Miners Castle and Battleship Row. Arrive early if you want a choice seat on the open-air top deck, and bring a jacket for the changeable weather. Our Captain Jared Niemi delivered facts and history with dry humor, explaining that the boat cruises along at a "neck-snapping speed of a whopping 13 miles per hour."
Riptide Ride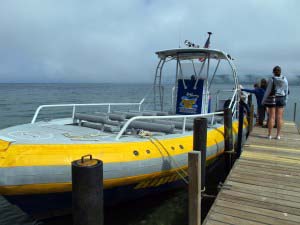 A nice complement to the slow-boat sightseeing outing is the Riptide Ride, a 28' rigid hull inflatable boat powered by 700 HP, twin jet propelled engines that zips across Munising Bay with music blaring and scream-inducing (okay, maybe I was the only one screaming) twists, turns, bumps and especially the 360-degree spins.
Munising natives Tim and Joni Flynn started the business as an alternative to the traditional tour they'd grown up with, and their kids help out at the operation.
The 1-1/2 hour tour circles Grand Island and combines sights with thrills.
Heavy fog affected our tour but since we'd seen the rocks on the other cruise we didn't mind; Riptide Ride was a blast. Dress for the ride; you will get splashed and sprayed with water.
Munising Bay Shipwreck Tours
Munising Bay is a harbor of refuge on Lake Superior, and the resting place of many vessels dating to the late 1800s. The shipwrecks are protected by the Alger Underwater Preserve, and popular with divers (some are in water shallow enough for snorkelers).
Others can see wrecks from glass bottomed boat Shipwreck Tours.
The two-hour tour passes over three shipwrecks viewed through 4'x10′ viewing wells. Our tour guide, Bill, explained the history of each craft and described what parts of the boats we were seeing in the crystal clear water below. Some were as close as four feet and some were as deep as 30 feet.
They included the Hettler, which ran aground in 1926; all hands were rescued. The crowd loved Bill pointing out the captain's bathtub and commode in 15 feet of water beneath us.
For ideas on where to eat, stay, shop and play in Munising check out the free Great Lakes Gazette Touraide!
P.S.
You can rent a kayak and guide and do the individual exploration with the help of the experts at Uncle Ducky Outdoors….I'm only mentioning them because I've heard good things about this respected company. If I do venture out on one of their tours, you can be sure I'll share stories and photos!
Pictured Rocks Cruises
100 W. City Park Dr., Munising, Michigan
(800) 650-2379 or (906) 387-2379
Tickets are $36; $10 for ages 6-12; $1 under 6 and can be reserved online—recommended during peak season because cruises do sell out
Riptide Ride
1311 W. M-28, Munising, Michigan
(906) 387-8888
Tickets are $38; $28 for ages 3-12; no kids under 3.
Munising Bay Shipwreck Tours
1204 Commercial St., Munising, Michigan
(906) 387-4477
Tickets are $32; $29 for 62 and up; $12 ages 5-12; under 5 free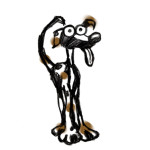 Tucker the Wonder Dog Says: All three rides have dog kennels available during your ride; arrange in advance.
All are located in Area E on the map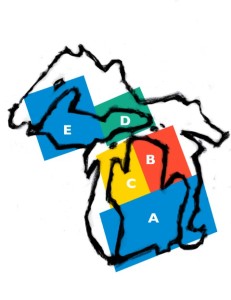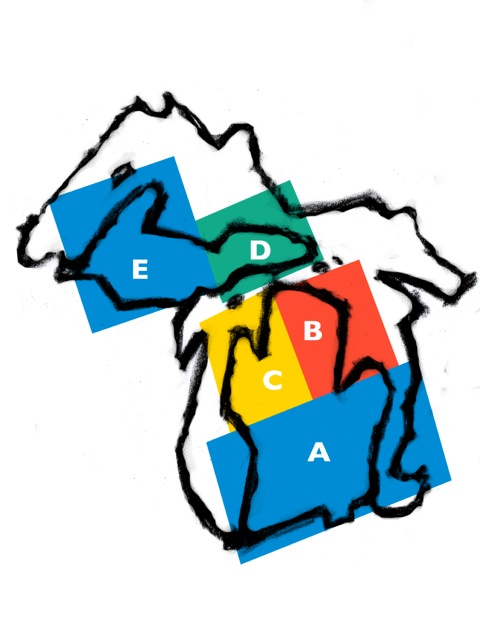 Visitor Info Clicks:
Munising and Alger County
Upper Peninsula
Pure Michigan
All stories and photos copyright Kath Usitalo unless otherwise noted