About 16 years ago a 30-something guy in the Upper Peninsula with a big imagination and a talent for welding quits drinking and starts making metal sculptures from scrap iron. Big sculptures. Lumberjacks and monsters.

Little guys and funny stuff. Martians on a space ship, a fish skeleton and all manner of critters. Political commentary. Patriotic salutes to the Marines, and to 9/11.
The self-taught artist can't part with any of his creations and needs more room for his "Junkyard Art." He wants to share his artwork with the world, or the part of the population that travels through his part of the world near the Lake Superior shore. In 2003 he buys around 37 acres of land in Chocolay Township, 15 miles or so east of Marquette (28 miles west of Munising) on highway M-28.
Like Walt Disney, he names his fantasy park after himself, Tom Lakenen: Lakenenland. His sculpture park is open around the clock, everyday of the year. Unlike Disney's worlds, there's no charge to enter. It's free for all. (Okay, he accepts donations.)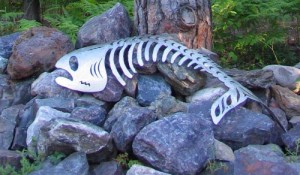 Tom cuts a wide path for visitors to walk (or drive, for those who can't manage the stroll) to see the sculptures in the woods—40 or 50 a decade ago, more than 80 of them now. He digs ponds, handpaints signs, makes a fire ring and builds a nice, clean outhouse. He adds a bandshell. He takes an old sauna and turns it into a shelter for hikers that cross his property as they follow the North Country Trail.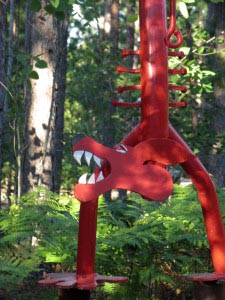 In the summertime families stop by after picnicking along Lake Superior (there are several nice, free roadside parks on the beach between Munising and Marquette).
When the white stuff flies snowshoers hike the trails and sledders ride their machines along snowmobile trail #417, and stop at the fire ring and outdoor kitchen to rest and warm up and swap stories.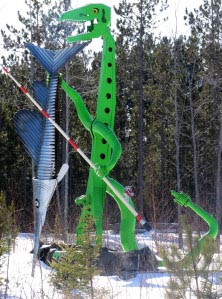 Tom has a day job in construction and is a member of the Boilermaker's Union, but is often at the park working on a project or visiting with folks who stop by. We've been to Lakenenland (pronounced LAY-kin-nen-land) a couple of times but have not yet met him. I know that he's been quoted as saying that after he quit the adult beverages he started "creating all the things I saw while drinking."
It's a joy and an inspiration to see what he builds with his hands and imagination, metal scraps, cast-off stuff and paint. He does it for his own satisfaction and enjoyment and everyone else's; the sculptures are not for sale.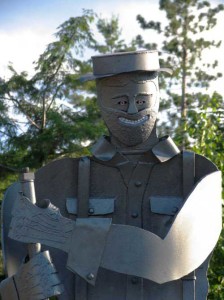 Tom's latest project is a large, three-sided  log pavilion with a rock wall and fireplace, another gathering spot built with his hands, his heart, and a generous donation from a Marquette resident. In an email Tom says, "People think I'm retired and rich but I'm not either, not even close." But he is wealthy in ways most people can only imagine, in the pleasure his Junkyard Art brings to others.
We've seen people of all ages roaming the park, and speaking in different languages, directing poses for photos with the sculptures. Kids love Lakenenland because they (and, I suppose, adults too) can touch and even climb on many of the pieces of art.
There's no charge for admission, no parking fee. Oh—did I mention that he accepts donations? Look for the clearly marked red tube. Whether you toss in a penny, nickel or dime you can ring the attached bell, reads the writing on the donation sculpture.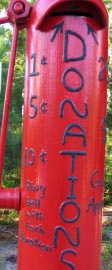 Lakenenland is a U.P. treasure, and it doesn't have to cost you a dime. Unless you want to ring that bell. And you will.
Lakenenland
On Hwy. M-28, 15 miles east of Marquette
Located in Area E on the map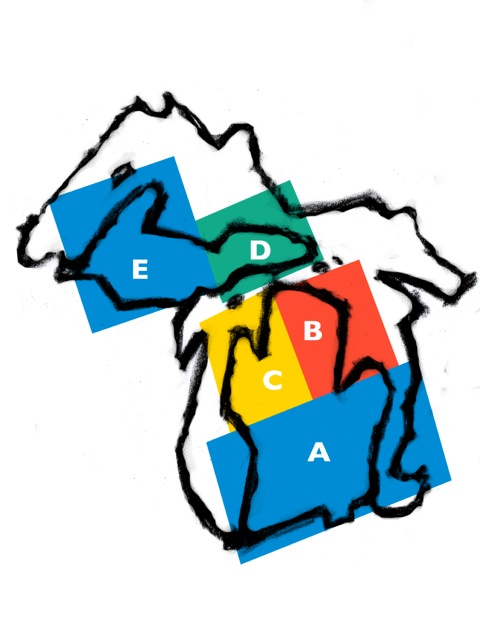 Visitor Info Clicks:
Marquette
Upper Peninsula
Pure Michigan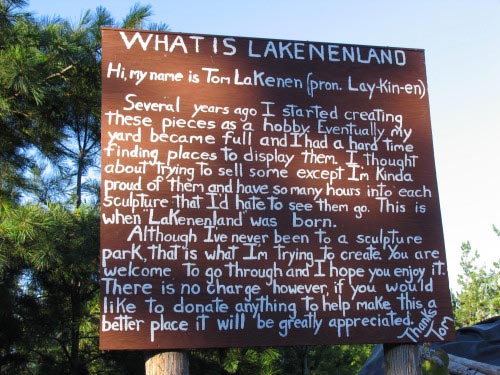 All stories and photos copyright Kath Usitalo unless noted otherwise