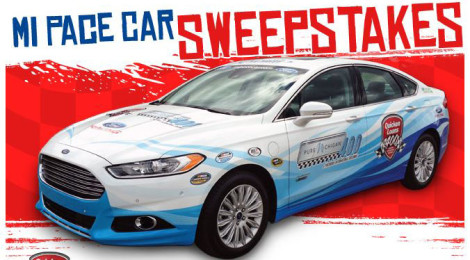 If you're a resident of Quebec you can stop reading right now.
For some reason you're not eligible for the MI Pace Car Sweepstakes. Other North Americans interested in a chance to win the grand prize of a month's mortgage payment (up to $2,000) and the 2013 Official Pace Car at Michigan International Speedway (MIS), a Ford Fusion Energi, may continue.
There's a months-long process on the road to your shot at driving away the plug-in hybrid Energi and one of four Michigan travel packages. The contest, sponsored by MIS, Ford Motor Company, Quicken Loans and Pure Michigan, the state's tourism office, opened April 2nd; online entries close July 31 and final deadline is August 17, 2013. As you can imagine in a contest with multiple companies involved there are a lot of rules, regulations and fine pring; check them out here.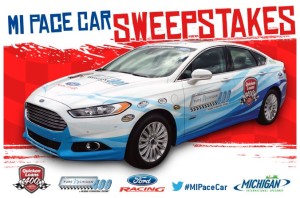 Four finalists—one selected in May, June, July and August—will receive the mortgage money* and a four-night stay at a choice of destinations (Ann Arbor, Grand Rapids, Shanty Creek Resort or Grand Hotel, Mackinac Island) plus a VIP Package to the NASCAR Sprint Cup Series weekend August 16-18.
A fifth finalist will be chosen during Pure Michigan 400 pre-race events. The five finalists will each select a key and the person with the key that starts the car wins the Energi.
Enter the sweepstakes online at www.mipacecar.com by 11:59 p.m. EDT on July 31, 2013. Fans may also enter onsite at the New Holland Fan Plaza at a Michigan International Speedway NASCAR race.
For MIS race tickets go to:  http://www.MISpeedway.com or phone (800) 354-1010
*Canadian residents: see rules regarding the mortgage prize.
You can't win if you don't enter!