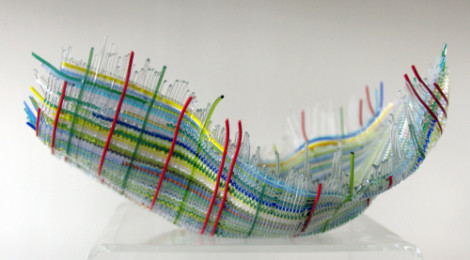 Worn—but gleaming—wooden floors, workhorse elevators and the exposed structural elements of an industrial building reveal the manufacturing past of the sturdy, four-story structure known as Kalamazoo's Park Trades Center.
Once the home of the Saniwax Paper Company (maker of waxed paper) and the Kalamazoo Loose Leaf Binder Company, the sprawling complex now houses industry of the imaginative and creative kind. The 140,000 square feet of space is configured into 95 studios where artists, writers and others produce their work.
At the West Michigan Glass Art Center you can shop the gallery for decorative and functional glass pieces, take classes, and see glass-blowing demonstrations during special events and the monthly Kalamazoo Art Hop. The gallery crawl is held from 5-9 p.m. each first Friday evening at various sites in downtown Kalamazoo, and it's when you're likely to find many artists in their studios at Park Trades Center.
The WMGAC gallery showcases the work of students and instructors such as Plainwell, Michigan artist Sally Pritko, whose "Threads," a beautiful and delicate glass stringer bowl,  caught my eye.
Sally, a china painter who has also worked with pastels, drawing and oil painting, has been focusing on kiln formed art glass for about seven years and is an instructor at WMGAC.
She created this square piece out of pre-made, thin glass stringers that she lined up, fused, heated in a kiln and molded into shape. I'd be afraid to own it because it seems so delicate—like I could easily break one of those hanging threads—but I love looking at the photo!
The Glass Art Center is just one of the dozens of creative endeavors with the Park Trades Center address. Photographers, a rare book dealer, ceramic artists, woodworkers, metalsmiths, sculptors, painters and other 2D artists fill the handsomely restored space.
The 
Kalamazoo Book Arts Center
, where the theme is, "Exploring the Arts of Handmade Paper, Prints, Books and the Ideas Within Them." I would have liked to visit with these lovers of paper, letterpress, printmaking, typography and bookbinding, but no one was on site when I dropped by.
There was a beehive of activity at Art on a Whim as several women worked on hand-painted wood projects. Color rules at Gretchen Leguizamon's lively studio and shop, filled with an assortment of home accessories, furniture and fun stuff like irresistible stuffed monkeys. A colorful chess set almost made me want to learn to play.
Catching the artists on site is hit-or-miss, but it was interesting to explore the building and peek into studios where possible.
In addition to the monthly Art Hop when some studios are open to the public, Park Trades Center annually hosts two Open Studio Tours, in May and November. Check the calendar for event details.
For ideas on where to eat, stay, shop and play in Kalamazoo check out the free Great Lakes Gazette Touraide!
Park Trades Center
326 W. Kalamazoo Ave., Kalamazoo, Michigan
(269) 345-3311
The building is open Monday through Friday; artists work on their own schedules.
If there's a business you're particularly interested in it's best to call and make an appointment to meet.