My oh my, we love these pies!
I'd heard about the cute, retro pie shop north of Lansing and the perky, pearl-wearing Linda Hundt behind the rolling pin, and I'm glad we finally made the detour to DeWitt to check out Sweetie-licious Bakery Cafe.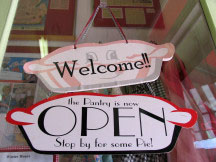 I was happy to see that Sweetie-licious is very much a part of the 1830′s village at the heart of the one-time county seat and former farming center, now a bedroom community for commuters to the Capital City about a 20-minute drive south.
Entering the cozy cafe under the cheery red and white striped awning, we were greeted by Big Band music playing in the background and displays of vintage cookbooks, magazines, aprons and pink metal play kitchen appliances (I had those!).
The chalkboard menu listed several sandwiches, soups, quiche and other baked goods but we were there for one thing: pie.
Each of Linda's three dozen pies has a story, like Johnny's Coconut Cream Pie which she made for her boyfriend (and eventual husband), and Laura's Sticky Toffee Pudding Caramel Apple Pie, an award-winner inspired by a dessert that her twin sister raved about. You can read about (and order) pies at the pink and oh-so-cute Sweetie-Licious website. Some pies are available only when the fresh Michigan ingredients are.
When we stopped in at the cafe it was near quittin' time the glass cake stands in the display case were empty but for one: We nabbed the last whole pie, Tom's Cheery Cherry Cherry Berry (named for her brother-in-law), which weighed a ton and oozed berry juice through its thick crust.
We brought the prized dessert to a family gathering the next day in honor of our nephew (and Godchild) Kevin, who was home on leave from the Army before being deployed to Afghanistan. (Quite an occasion for comfort food.)
Everyone confirmed that this pie, with its dense fruit and melt-in-your mouth crust, certainly deserved its Best of Show award in the 2009 Food Network contest.
I am not a pie expert, but this one was so good I'm tempted to adopt Linda's mission, "Changing the World, One Pie at a Time," and start a movement to make Tom's Cheery Cherry Cherry Berry Pie the Official State Pie of Michigan.

Sweetie-licious Bakery Cafe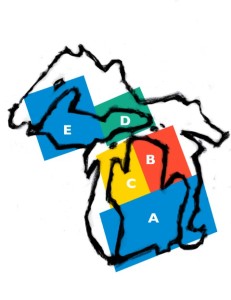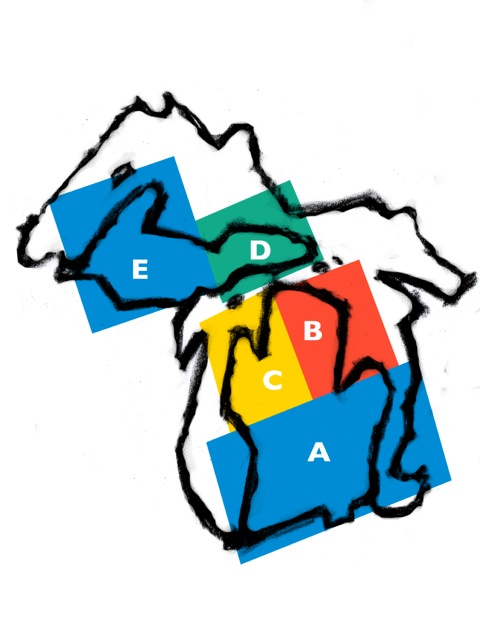 108 North Bridge Street, DeWitt, Michigan
(517) 669-9300
Closed Sunday
Map Area A
Visitor Info Clicks:
Lansing
Pure Michigan
All stories and photos copyright Kath Usitalo unless otherwise noted