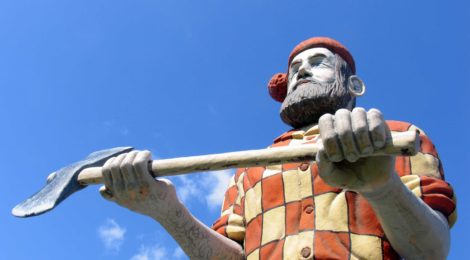 Of the many towns that declare they are the home of Paul Bunyan, why has Oscoda, Michigan, on the northern Lake Huron coast, staked a claim to the honor?
The earliest account of a giant logger named Paul Bonjean dates to 1837 when French Canadians concocted and told tales about the character.
James MacGillivray is credited with writing the first story about Paul Bunyan, which was published in the August 10, 1906 edition of the Oscoda Press. In 2006 Michigan Governor Jennifer Granholm declared that date "Paul Bunyan Day" in honor of the legend's 100th birthday.
Celebrate the oversized and talented lumberjack and his jumbo sidekick Babe the Blue Ox at the annual Paul Bunyan Days September 22-24 in Oscoda. Don your best plaid shirt and watch chainsaw artists sculpt logs, take in the car show, shop the crafts sale, and enjoy the pie eating contest, entertainment, carnival rides and food and beverages.
And what says Paul Bunyan better than a corn hole competition?
Oscoda is located in area B of the map.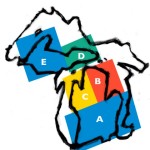 Visitor Info Clicks:
Story and photos Copyright Kath Usitalo.
Paul Bunyan with the axe (in top photo) stands along US-2 in Manistique.