Visitors to Chicago—first timers and frequent travelers—have no shortage of sightseeing and shopping options, from museums, to strolling Michigan Avenue's Magnificent Mile, or people-watching at Millennium Park.
Those who've been there, done that in the Windy City might consider veering off the tried and true paths and exploring 77 different, named neighborhoods, like Albany Park, about eight miles north of the Loop along Lawrence Avenue.
Residents call it the "Gateway to the World" for its mix of East Asian, Hispanic, and Middle Eastern population. You can eat your way through a buffet of Guatemalan, Japanese, Korean, Lebanese, Mexican, Salvadoran, Persian, Columbian and other world food at area restaurants.
This is home to the National Cambodian Haritage Museum and Killing Fields Memorial, a source of aid for new immigrants, and a center for Cambodian culture.
It is the site of the Killing Fields Memorial and museum dedicated to the more than two million Cambodians, of a population of seven million, who died during the Khmer Rouge genocide from 1975-79.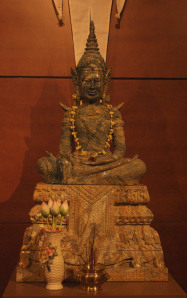 The striking sculpture on the exterior of the building of Apsara (Celestial Angel) and Brahma (Hindu God of Creation) was carved of wood by artist-in-residence Choeut Tuy, a survivor of the horrific events in Cambodia.
Inside, past the imported goods in the gift shop, is the exhibition, "Remembering the Killing Fields," which recounts the siege of Phnom Penh and atrocities that followed.
And there is a serene memorial to the victims of the Killing Fields. Dary Mien, executive director, explains, "There are no piles of skeletons and bones. What we wanted was a place for survivors to come and be healed. A place where we think about moving on."
The memorial includes the message, "We continue our journey with compassion, understanding and wisdom." Each of the 80 glass panels of the Wall of Remembrance represents 25,000 of those lost in the Killing Fields.
Across the street in Ronan Park along the North Branch of the Chicago River, the Cambodian Association of Illinois helped develop a Multicultural Sculpture Park and Healing Garden featuring a changing display of sculpture and an outdoor performance space.
National Cambodian Heritage Museum and Killing Fields Memorial
2831 W. Lawrence Ave., Chicago, Illinois
(773) 878-7090
The museum is open Monday-Friday; admission is free.
Visitor Info Click:
Chicago
All stories and photos copyright Kath Usitalo unless otherwise noted