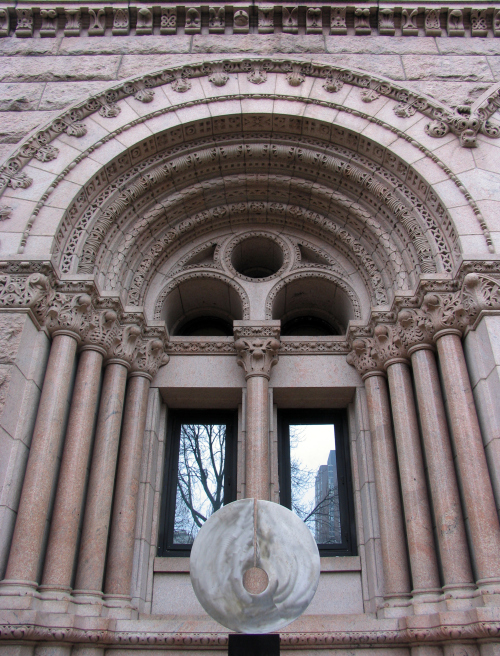 The handsome Newberry Library is constructed of pink granite
Spending time in a library isn't on the Top Ten list of things to see and do for most visitors to Chicago. But The Newberry, one of only 20 independent reference and research libraries in the country, is a destination for researchers, students, folks who are checking into their genealogical history, and the just plain curious.
The Newberry was established in 1887 with $2.2 million from the estate of Chicago businessman Walter Loomis Newberry, who specified that it be a free, public institution located on the north side of the Chicago River. William Frederick Poole, The Newberry's founding librarian, acquired 25,000 books in its first 18 months, and he oversaw the design and construction of the library's fourth and permanent structure in the city's Gold Coast neighborhood. The elegant, five-story pink granite Romanesque building opened in November 1893 on Washington Square, Chicago's oldest park.
Rare access
The Newberry collection consists of more than 1.5 million books, 5 million pages of manuscripts, 500,000 maps, and brochures, advertisements, personal papers, sheet music and many other types of print materials. Among the rarities are Thomas Jefferson's copy of The Federalist Papers and a First Folio edition of Mr. Shakespeare's Comedies, Histories & Tragedies that was printed in 1623.
Although they can't be checked out, the items are accessible for study in reading rooms to anyone at least 16 years old or a high school junior. The materials are kept in climate-controlled stacks, and on request are retrieved by staff. Gloves and book rests are provided for handling delicate materials. There's no charge to access the collection, but all researchers must have a Newberry Reader's Card; they're free and issued on the spot with proper identification.
Core subjects include music, religion, American Indian and Indigenous Studies, Medieval, Renaissance and Early Modern Studies, American History and Culture, and Maps,Travel, and Exploration.
I had a chance to browse a sampling of travel-related literature, from tour guides and maps to century-old trip journals and photographs. It was fun to read the notebook of a young visitor to the 1933 Century of Progress International Exposition. Rail buffs would enjoy exploring the archives of the Pullman Company and the Illinois Central and Chicago, Burlington and Quincy Railroads.
Exhibitions and more
The Newberry hosts programs, exhibitions and, on the last weekend of July each year, a Book Fair that supports the library and is a major event for bibliophiles.
The Newberry's bookstore carries titles that reflect the subjects in the library's collection plus general interest and children's books, gifts and stationery.
The Newberry 
60 W. Walton St., Chicago, Illinois
312-943-9090
The library reading rooms are open 9 a.m.-5 p.m. Tuesday through Friday and 9 a.m.-1 p.m. Saturday.
The Newberry offers free public tours at 3 p.m. Thursdays and 10:30 a.m. Saturdays.
Hours for the Exhibition Galleries and Bookstore vary.
Admission to the library and exhibitions is free.
Accommodations: The Newberry has made arrangements for discounts at several lodging properties for short and long-term stays; details are on the Newberry website.
All stories and photos copyright Kath Usitalo unless otherwise noted