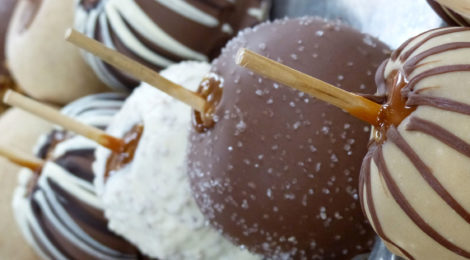 A cheery "Hello! Welcome!" rings out as TJ and I step inside The Sweet Shop, a downtown Cadillac landmark for more than 50 years. While the two greeters go about packaging hundreds of boxes of chocolates custom made for a local event, we're met by a smiling gent bearing a tray of candy.
It's Paul Beardsley, who with his wife Helen bought The Sweet Shop in 1982. He offers us a Snowbird—a dollop of white chocolate speckled with bits of Georgia pecans—and explains that he and his late wife started the candy sharing tradition as a way of making visitors feel welcome. Success!
The signature confection, which was created by Gracie McKellop, who founded the business in 1961, is named for candy fans who leave Michigan to spend their winters in warmer climes.
The Sweet Shop ships Snowbirds and other goodies around the world, including the fall seasonal favorite: Michigan Honeycrisp apples coated in caramel and, if you like, a choice of chocolate, with or without nuts. For Halloween there are fun "apples in disguise."
We couldn't resist the softball-sized fruit on a stick, and chose one covered with caramel, coated with dark chocolate, rolled in chopped nuts and sprinkled with sea salt. It took us a week to nibble our way through it, slice by delish slice. Our version of an apple a day.
Turtles and clusters and bear claws, oh my! The store's glass display cases are filled with luscious, freshly made, preservative-free favorites in milk, dark and white chocolate. There are barks, creams, tortoises and clusters. One shelf holds samples of the shop's dozens of custom chocolate molds, from a selection of animals and musical instruments, sporting goods and hand tools, to a set of cavity-free choppers.
The Sweet Shop's temptations include flavored popcorn, homemade fudge, a variety of nuts and old fashioned wrapped candies heaped in barrels.
Paul and Helen's daughter Janeen Russell now owns and operates The Sweet Shop, and she and her son JP have opened a second location in Saugatuck; another generation "Making The World A Little Sweeter."
Paul stops by the Cadillac store every now and then to chat with customers and share the Snowbird tradition. It's a hard habit to break, he says. After a short visit, we say goodbye with a friendly hug.
It's easy to see why the Cadillac candy institution has a loyal following, as indicated by the world map dotted with pins showing The Sweet Shop's global reach.
If you can't make a visit to the store you can place a Sweet Shop online order. Convenient, and just as delish. But it doesn't come with a hug from Paul.
Visitor Info Clicks:
The Sweet Shop
Cadillac
Pure Michigan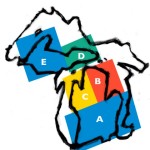 Cadillac is located in Area C of the map
Photos and story copyright Kath Usitalo