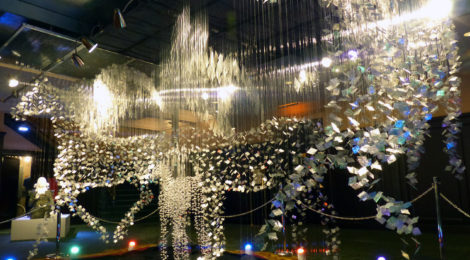 The buzz about ArtPrize, the "radically open international art competition" that consumes Grand Rapids each autumn, is justified. I've read about it, prowled the ArtPrize website and I even wrote a newspaper story about the first happening in 2009. For that article I visited the southwest Michigan city while artists were painting their murals and installing works prior to the ArtPrize opening; until this year I'd not experienced the multi-sensory event in all its glory.
And to appreciate it, you must experience it. The eighth annual ArtPrize opened September 21 and closes October 9, so you still have time to stroll the streets and walk through your choice of 170 parks, plazas, hotels, museums, bars, banks, restaurants, office structures and other buildings that house 1,453 works of art of all sizes, dimensions and media.
The "radically open" aspect of the event means that any artist age 18 and up, from anywhere on the planet, working in any medium, may enter the competition. Critics sniff that some entries are more craft than art, but 400,000 visitors don't seem to mind the mix, which range from tabletop works including the wood lathe turned bowl created by Jim Rutledge, our neighbor in Engadine, to two-story sculptures placed indoors and out.
Now, until October 6 at 11:59 p.m., you can help select the winner from the 20 finalists chosen by the vote of the public in the first 10 days of the event, and view the 20 juried award finalists.
About 70% of ArtPrize artists are from Michigan, but many states and several countries are represented in the competition that awards a $200,000 grand prize for the work selected by the people, and a similar pot awarded by jury. There are additional smaller prizes, bringing the grand total awarded to $500,000.
While the prize money is attractive, only 20% of the artists participate because of the possibility of winning the cash. Some submit their work because they have statements to make through their art, like the commentary about homelessness expressed in the handmade orb called Emoh (home, backwards).
Others enjoy just being a part of the event, meeting with the public, showing and possibly selling their stuff and, well, who knows what goes through the minds of these creative souls?
ArtPrize is a gigantic and free art show, but it's also a festival. On our Sunday afternoon stroll through portions of the three square-mile, downtown ArtPrize territory we saw artists chatting with the public, we listened to street musicians, watched buskers doing magic, balloon artists making hats, and caricature artists sketching. There are food and snack stands scattered throughout.
ArtPrize is for people of all demographics and ages. I saw families—one mom with a three-week old baby—and grandparents, college kids and couples soaking it up, taking it all in, studying and engaging in conversation about the art. That was one of the goals when Richard DeVos conceived the project in 2009.
It's a quieter scene on weekdays, and easier to see the art, so make your plans accordingly. The thought of tackling this sprawling event can be intimidating, but the ArtPrize organization and a team of 1,200 volunteers make it manageable.
Tips: To prepare for a visit, look at the ArtPrize website, but don't become overwhelmed by it. &A day trip is fine but if at all possible, plan an overnight stay. There's so much to see and do that the energy and sheer volume of creativity will make you want to linger longer.
&Make a beeline to the ArtPrize HUB/HQ to get information and get oriented. This is where you can register to vote for the art and help determine the winner. There are seven satellite HUB booths throughout the area, as well, and the volunteers are outstandingly helpful.
&ArtPrize hours are noon to 8 p.m., though some art is accessible at other times. &For maximum exposure in minimal time head to venues with large numbers of art, including the Gerald R. Ford Presidential Museum (bonus: museum admission is free during ArtPrize), DeVos Place, The B.O.B. and the Women's City Club (bonus: much of the work on display at WCC is for sale, and additional pieces by some of the artists are available in the gallery shop). &Be sure to visit the two ArtPrize location outside of the downtown area: SiTE:Lab and Frederik Meijer Gardens & Sculpture Park. &Wear your most comfortable walking shoes. &Relax. &Be open. &Bring your camera. &Enjoy.
Allow time to sample Grand Rapid's exploding dining scene, sip a few at the local brew pubs and take in the sights. As its Executive Director Christian Gaines says of ArtPrize, "It's as much about discovering a city as it is about art."
Visitor Info Clicks:
ArtPrize
Experience Grand Rapids
Pure Michigan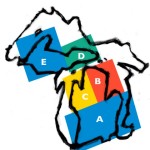 Grand Rapids in in area A on the map
The featured photo (at top of page) is of a top 20 finalist, "Imagine If" by Robin Protz at the Amway Grand Plaza.
Story and photos are copyright Kath Usitalo