Although we've never attended it, I had a dream about being in the thick of things at the annual Outhouse Classic in the Upper Peninsula town of Trenary.
My dream interpretation book makes no mention of what it means to be a spectator at an outhouse race, so I'll have to leave that to my imagination. 

The race, which will make its 24th run in February of 2017, is a kooky excuse for getting out in the cold, drinking beer, and watching two-person teams push their creatively decorated, ski-mounted, overall wacky outhouses along a 500-foot runway lined by a cheering (did I mention beer drinking?) crowd.  It's one of those endearing Yooper traditions that attracts throngs and has fans marking their calendars for the last Saturday of February each year.
The mid-peninsula town is also home to Trenary Home Bakery, best known as the home of cinnamon sugar coated dried toast that generations of Yoopers have grown up on. Some break the twice-baked slices into chunks and soak them in milk; when we were young we slathered the crunchy toast in butter. Most folks, including me, like it best after giving it a quick dunk in a cuppa joe.
TJ had never heard of Trenary Toast until he met me, but our kids Graham and Paige grew up eating korppu, the Finnish word for the pantry standby. We've named it the (unofficial) Official Dunking Toast of the Great Lakes Gazette.
The Syrannens (aka Siiranen) started Trenary Home Bakery in 1928, and it was in the Hallinen family from 1951 until Maureen Webber bought the biz in January 2011. Andy Reichert assumed ownership in 2015, and is making subtle changes like adding a cardamom flavor to the popular cinnamon toast. (There's also a plain version. Yawn.)
The crew handcrafts more than 900 packages of toast each day at the bakery in the heart of downtown Trenary, where the slices are lined up inside of brown paper bags that are folded over and stapled closed at the top.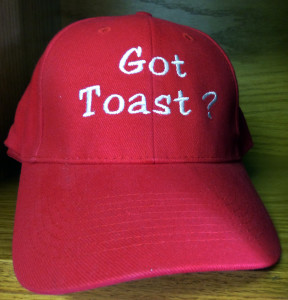 When TJ and I stopped in at the Trenary cafe, adjacent to the bakery, it was late in the afternoon and pretty darn quiet, but the young lady behind the counter was cheery and friendly.
We grabbed a coffee and a bag of toast—we got the value size with odds and slightly over-baked pieces for a bargain price—and eyed the bright red merchandise. I like the stuff but not enough to wear a "Got Toast?" hat. Now if they sold a visor I might be tempted…
If you don't happen to find yourself in Trenary you can pick up a plain brown paper bag of the crunchy coffee companion at stores across the U.P. In the Detroit area I've found it at the Finnish Cultural Center in Farmington Hills. You can also order Trenary Toast (and other stuff) online from Trenary Home Bakery.
Brew a pot of strong coffee and get dunkin'!
All stories and photos copyright Kath Usitalo unless otherwise noted