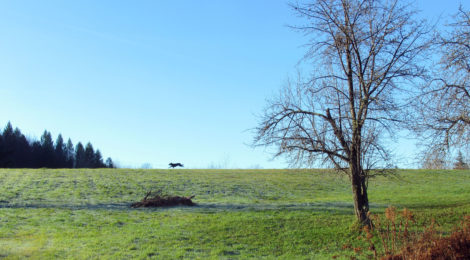 I've been a Road Dog from the start. Story goes—I was born in Kentucky but as mere pups my siblings and me somehow made our way to northern Michigan and the Little Traverse Bay Humane Society. Then, we we were adopted and went our separate ways. Most of my road trips have been to places in Michigan, with a few jaunts to Ithaca, New York, when my girl Paige was going to school there.
But I keep an eye out for tips on traveling around the Great Lakes and will share that stuff with you here.
When we hit the road, sometimes I share the room—the family's room with the beds and coffee maker—but it's such hard work. I'm always at the window scouting the joint, or listening for strangers, ready to defend the temporary turf. And what thanks do I get for being constantly on guard? "Quiet, Tuck. Shhhh…. Enough. It's okay." Oh, if they only knew. It's no vacation for me.
I mean, eating out at restaurants only works in the warm weather, when I can tuck myself under the patio or deck table. And it's fine to go to parks and beaches, but so far I've been under some sort of restraining order and have had to stay on-leash. Like at Sleeping Bear Dunes National Lakeshore. It sure is gorgeous, but should be called Sleeping Bear DuneNots, as in dune-not run the trails or beach off-leash, dune-not go to the Maritime Museum, dune-not climb the dunes.
One of my favorite way to go is to stay at a rented house that welcomes dogs. We've done that a few times, and I love the freedom (yup, that's me in the photo at top, running across 70 acres of fields at Pond View near Ithaca, NY).
But I don't mind when I get dropped off for boarding and hanging out with my kind while the family does their own thing. So far, we've had good luck. In Michigan I give Paws Up to:
Camp Bow Wow, St. Clair Shores: I've only stayed at the Camp Bow Wow in St. Clair Shores, north of Detroit, but you can find CBW all over the place; I hope they're all as clean and friendly as this one, with lots of room to play with dogs of my own size.
Dog Dreams Inn, Traverse City area: A cool, cage-free house on the grounds of Grand Traverse Resort and Spa. It's a separate operation but convenient for anyone staying or playing (golf, casino, spa) at the resort. Dog Dreams Inn has play rooms and a big yard, TVs and toys, and in-and-out privileges if the family wants to take their pup on an outing.
Meadowpond Pet Resort, Mancelona: This is near Shanty Creek Resort and beautiful downtown Bellaire, home of Short's Brewery. Each guest gets an indoor/outdoor "suite" with a doggie door to the yard. I think that's new since I was there. I'l have to go back and check it out.
Wags & Purrs Pet Care Center, Petoskey: We heard about this place from a neighbor, woof-of-mouth, and I've been there a few times. Each of us have our own indoor/outdoor run and time to play outside with other dogs.
Little Traverse Bay Humane Society, Harbor Springs: Okay, so I haven't stayed overnight since before I was adopted, but I did go back for a nail trim and I'll probably end up staying overnight again someday. They rescued me, so it's got to be a good place, right?
Family Trips: When you click on the tabs above to check out the stories on places to visit you'll see my picture next to those that welcome pets (coming soon).
For dog-friendly information in each state go to the Around the Lakes page and click on the state travel website, then search "dog friendly."
TIP: There are two states that go above and beyond to help families plan their trips with pets:
Your Guide to Pet-Friendly Travel in Minnesota: I trust this info from Lisa Meyers McClintick (my mom knows her). From the sounds of it, we'd be most welcome in the area of Grand Marais and the North Shore. But then there's Stanley's Northeast Bar Room in Minneapolis, where we have our own dog patio menu. Frozen Smoked Beef Marrow Bone, anyone? Take me there.
Check out Lisa's 10 Pet Travel Tips. They make sense in Minnesota and just about anywhere.
"Dogs Are Welcome in Wisconsin: And They Can Bring Their People, Too." The Badger State takes the cheese in rolling out the red carpet for pets—especially dogs. Their Dog-Loving Lodging list includes The Iron Horse Hotel in Milwaukee. My folks love that place. Wisconsin even has dog-friendly breweries. Roll out the barrel!