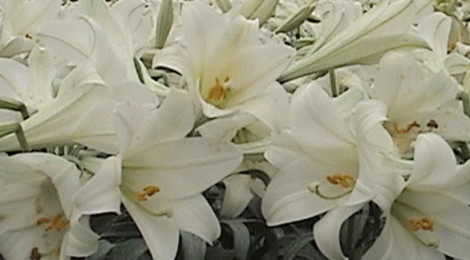 The Easter Lily, a symbol of Christ's resurrection from the dead, is a fragrant and glowing white, trumpet-shaped potted plant that is also a springtime symbol of purity, life and hope. The clusters of lilies that surround church alters on Easter Sunday symbolize the flowers that sprang up where drops of sweat fell from the agonized Christ in his final hours.
Lilium longiforum, now known as the Easter Lily, is native to Japan, where it grew in the wild. An American World War I soldier introduced the plant to the U.S. when he smuggled in some bulbs in 1919.
The Pacific coast climate and conditions, especially in southern Oregon, proved ideal for growing the lily bulb. With a post- Pearl Harbor shortage of Japanese bulbs, commercial production took off in the U.S. The California-Oregon border area is called the "Easter Lily Capital of the World," and the popular flower became known as "white gold."
Michigan is the top commercial producer of potted Easter Lilies in the U.S., followed by California, Pennsylvania and Ohio. Great Lakes growers rule!
More bloomin' fun facts:
"Nellie White" is the cultivar most commonly known among greenhouse potted Easter Lilies.
Each year about 12 million bulbs are shipped to potted plant growers across the U.S.
It takes three years to cultivate a bulb to maturity before it can be sold.
Lilies naturally bloom in summer; for flowering at Easter growers trick the bulbs into thinking winter with at least 40 days of refrigeration, followed by high temps in the greenhouse.
Cat owners, beware: the plant is poisonous and can prove fatal to cats.
After Easter (after danger of frost has passed) replant your lily bulb in your garden and expect to see it whither before it blooms in late summer of next year (2017), though you may get lucky and see flowers this summer. The lilies are hardy and usually thrive in zones 4-9.
Click here for tips on planting the lily in your garden.
Click here for more Easter Lily trivia and plant care.
Field of flowers photo courtesy easterlily.org