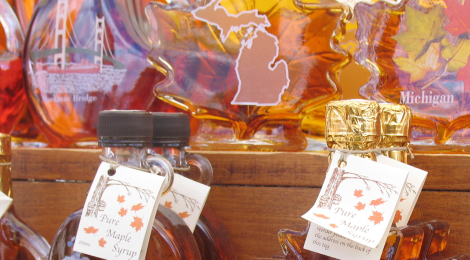 Looking for a sweet getaway? Plan a trip around a Michigan maple syrup event.
Syrup season begins in February in the Lower Peninsula and runs into April in the Upper Peninsula. According to the Michigan Maple Syrup Association, the state produces 91,000 gallons annually, tapping only about one percent of its maple forest resource. There are 500 commercial maple syrup operations and about 2,000 private or hobby syrup-makers in Michigan.
Maple syrup is the state's first agricultural crop of the year, and it's not an easy process: it takes up to 40 gallons of sap, boiled down to remove the water and concentrate the sugars, to create a gallon of sweetener suitable for eating. Check out the recipes at the MMSA website.
The association hosts its 4th annual Michigan Maple Weekend––actually three consecutive weekends—at three tiers of locations across the state: Southern Michigan March 19 & 20; Northern Lower Michigan March 26 & 27; Eastern Upper Peninsula April 2 & 3.
At those participating syruping locations and at parks and nature centers you can learn about the history of America's oldest agricultural product and visit the sugar bush and see—and sometimes even take part in—tree tapping demonstrations, watch the sap being boiled, and sample the final product.
There are pancake breakfasts, and maple candy and syrup to buy, music and hands-on activities; check each event for details and fees.
Here's a sampling of maple syrup events across the state:
March 19   Maple Syrup Day – Chippewa Nature Center, Midland
March 19  Maple Madness – Dahlem Nature Center, Jackson
March 19   Maple Syrup Festival – Fenner Nature Center, Lansing
March 19   Old Time Maple Sugar Festival – Waterloo Recreation Area
Southeast Michigan's Huron-Clinton Metroparks events:
– March 19-20   Maple Sugaring – Indian Springs Metropark
– March 19-20, 26-27   Maple's Sweet Story – Kensington Metropark
– March 19-20, 26 & 28   Maple Sweetness – Wolcott Mill Metropark
March 19-20   Michigan Maple Syrup Weekend – Southern Michigan
March 20   Sugaring & Shearing – Ella Sharp Museum, Jackson
March 26-27   Michigan Maple Syrup Weekend – Northern Lower Michigan April 2   Maple Syrup Day – Hartwick Pines State Park
April 2-3   Michigan Maple Syrup Weekend – Eastern Upper Peninsula
April 22-24   Shepherd Maple Syrup Festival
April 22-24   Vermontville Maple Syrup Festival