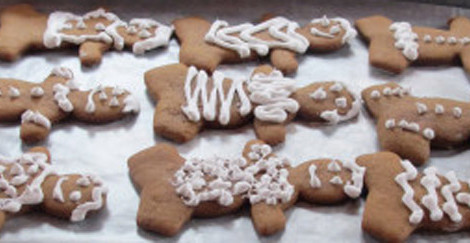 It's time to pull out the recipe for gingerbread men and make the little people that Mom would turn out by the dozens every year.
I use her cookie cutter but her recipe mysteriously disappears and reappears in my stack o' stuff throughout the year, so I've started to use this one.
It's from my dear friend Tania, who is also Paige's Godmother, so I consider this a family recipe. Quantity varies depending on the size of your cookie cutter(s), but it makes a lot of nice and soft, tasty cookies.
Tania's Grandma's Molasses Cookies
Cream together in mixing bowl:
1 cup (2 sticks) unsalted softened butter
1 cup sugar
Add 1 cup molasses
In separate bowl sift together:
2 cups flour
3 tsp baking soda
½ tsp salt
2 tsp ginger
2 tsp cinnamon
½ tsp nutmeg
½ tsp cloves
Add flour mix to cream mixture
Then alternate adding milk and flour, ending with flour:
1 cup buttermilk (or milk with 1 tablespoon vinegar added)
4 cups flour
Refrigerate overnight
Preheat oven to 375 degrees
Flour the board and roll dough out to 1/4" thick. Cut into shapes. Place on lightly greased cookie sheet.
Brush a little water over cookies and sprinkle with sugar (colored sugar to decorate if you like)
These cookies will spread so space on cookie sheet
Bake for 8 to 10 minutes; after 5 minutes switch tray from top to bottom rack
Let cool on a rack before decorating with icing.
Martha Stewart's Royal Icing
1 cup sifted confectioners' sugar
1 large egg white
food coloring (optional)