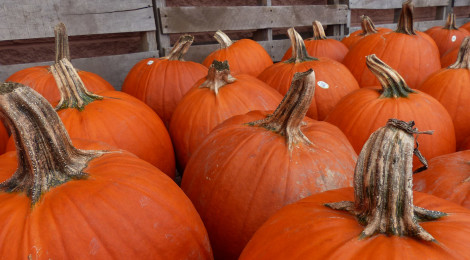 You'll fall for this simple pumpkin cake. It's perfect for this time of year, and was a hit at our Halloween dinner party.  I don't recall where I found the original recipe, but I tweaked it a bit by replacing some of the oil with applesauce and a portion of the white flour with whole wheat.
The sprinkling of confectioners sugar instead of icing means you don't have to feel guilty adding a scoop of vanilla ice cream to this delish dessert.
Pumpkin Cake
2 cups white sugar
3/4 cups applesauce
1/2 cup vegetable oil
1 teaspoon vanilla extract
15 oz can plain pumpkin
4 eggs
1-1/2 cups all-purpose flour, 1/2 cup whole wheat flour (or 2 cups all-purpose flour)
3 teaspoons baking powder
2 teaspoons baking soda
1/4 teaspoon salt
2 teaspoons ground cinnamon
1/2 teaspoon ground nutmeg
1/2 teaspoon ground cloves
1 cup chopped walnuts (optional but recommended!)
confectioners sugar
Preheat oven to 350F.
Grease and flour a 9 x 12 pan.
Sift together the flour, baking powder, baking soda, salt and spices. Set aside.
In a large bowl combine sugar, applesauce and oil. Blend in vanilla and pumpkin. Beat in eggs one at a time. Gradually beat in flour mixture. Stir in nuts. Spread batter into prepared pan.
Bake in preheated oven for 35-45 minutes, or until a toothpick inserted into the center of the cake comes out clean. Allow to cool. Dust lightly with confectioners sugar.