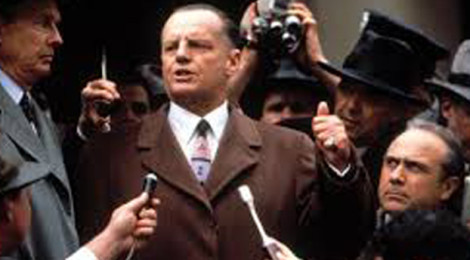 Hoffa: 1992 R rated biography of labor leader Jimmy Hoffa
Directed by Danny DeVito
Written by David Mamet
Starring Jack Nicholson, Danny DeVito, Armand Assante, J.T. Walsh and John C. Reilly
The last time anyone officially saw International Brotherhood of Teamsters President Jimmy Hoffa was July 30, 1975 at the Machus Red Fox restaurant in Bloomfield Township, north of Detroit.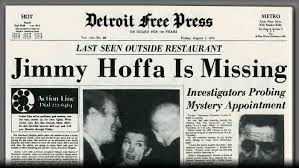 The records show he called his wife from a pay phone that day to tell her his lunch dates, Detroit mob boss Anthony "Tony Jack" Giacalone and New Jersey labor honcho Anthony "Tony Pro" Provenzano, hadn't shown up.
Though he was declared legally dead in 1982, Hoffa's fate has never been confirmed. A popular theory is that he ended up in the foundation of Detroit's Renaissance Center, the massive riverfront office/retail/hotel complex, which was under construction at the time.
The 1992 movie Hoffa is billed as a biography of the union legend, but it loosely interprets some of what's known.
Some reviews criticized the approach taken by Mamet in the script and DeVito in his direction; others thought it was a brilliant way to capture the essence of the life of the union boss.
Jack Nicholson keeps a steady stream of four-letter words flowing as he delivers a powerful performance. Or not. He was nominated for both the Golden Globe best actor and Razzies' worst actor. The period costumes, sets and production values show where the big budget money was spent.
I liked the flick, but maybe it's because I'm a Jack fan. I also may have been influenced by the time I was able to spend on the set as they shot at several locations around Detroit–Cobo Center for the big convention scene, a house in Indian Village, a loading dock.
Watch this flick and wonder, "Where's Jimmy Hoffa?"
Incidentally, Renaissance Center was the vision of Henry Ford II and now sports a gigantic GM logo as headquarters for General Motors.
You can take a free GM RenCen tour. You will not see a "Hoffa Sleeps Here" plaque anywhere in the sprawling complex.