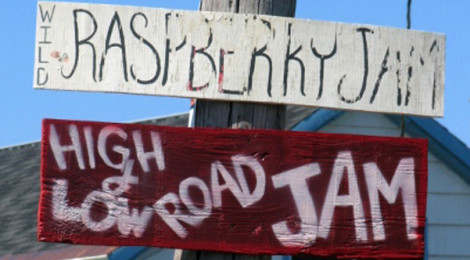 When we were kids we picked blueberries that grew around our family's cabin in Roscommon, and strawberries from the field behind dad's childhood home in Kearsarge.
Wild raspberries grow all around the house here at Blue Skies and we've picked wild blueberries along the trail (we know there are fields of them nearby—maybe someone will share their secret hunting grounds with us this summer). So far this season I've missed out on the delicious strawberries that the Amish sell at roadside stands, arriving after they've sold out—but am hopeful I'll catch some yet this week.
With the abundance of berries comes a  bounty of homemade jam. It's something that Yoopers like to do. As you travel across the Upper Peninsula be on the lookout for signs promoting jams and jellies for sale. Thimbleberry, a local wild fruit, makes a popular (and pricey) jam, but blueberry and tripleberry are my favorites.
You can't miss the signage at the Jam Lady, a Keweenaw Peninsula institution for over 50 years. Last time we were in Eagle River we didn't stop there because we'd just been to the Jampot in nearby Eagle Harbor.
The Jampot is a roadside bakery founded and operated by monks of the Society of St. John, a Catholic Monastery of the Byzantine Rite. The men established their small community on the Lake Superior shore in 1983, where they have built the onion-domed Holy Transfiguration Skete.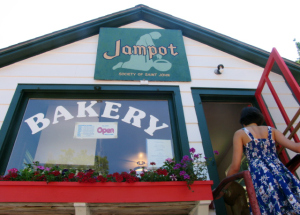 Despite the remote location on the Keweenaw Peninsula, don't be surprised if you have to stand in line to be served at the little white shop next to Jacob Creek Falls.
But the cookies, muffins, and brownies fresh from the oven are worth the wait.
We bought too many goodies, and took home several jars of their Poor Rock Abbey wild berry jams to share with others.
We devoured our jar of wild blueberry jam in a matter of a few short days.
The good-humored, brown-cloaked monks make and sell their jam, jellies and baked goods on site through mid-October (closed Sundays), and online throughout the year (check out the bourbon-soaked fruitcakes).
Keweenaw Kitchen makes its variety of jams in Baraga, and are widely-available across the U.P. I like the Tripleberry Jam, a blend of strawberries, raspberries and blackberries. It's delish on Finnish pannukakku, an easy oven pancake.
Finnish Pannukakku
The batter will puff up and turn golden brown; don't overbake. My Grandma used to put about a 1/4 cup of butter in the dish as described below; some people just swipe the pan with butter and then line with waxed paper.
3 eggs
1 cup milk
1/4 cup flour
2 Tablespoons sugar
1/4 teaspoon salt
Preheat oven to 425 F. Drop butter in 9 x 13 glass dish (or 2 8-inch cake pans). Place in warming oven just until butter melts; tilt dish to spread butter evenly.
Beat the eggs with an electric mixer (or old fashioned egg beater) until nice and fluffy. Add balance of ingredients, beating continuously until the mixture resembles thick cream. Pour into pan(s) and bake for 15 to 20 minutes. If using waxed paper, flip pannukakku onto serving plate and peel off the waxed paper. Best hot, but may be served at room temperature.
Story and photos copyright Kath Usitalo unless noted.