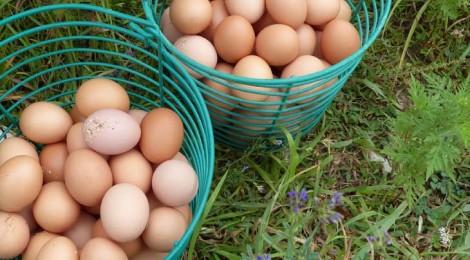 I'm a born eavesdropper. A lot of people do it but when you're a writer, it's part of the job description. Do you know how many ideas for articles, novels and screenplays have been sparked by snippets of conversations picked up by nosy—er, naturally curious—folks with notepads and pens in their pockets? Neither do I, but the skill is a building block of Writing 101.
When I had my first appointment at Judi's Hair Care in beautiful downtown Naubinway a couple of weeks ago I couldn't help but overhear my new stylist Gertie asking the other gals in the beauty parlor for ideas for feeding a gang of summertime visitors.
Aha! I thought, as I flipped through a magazine, pretending to not pay attention to the chatter. What better way to weasel my way into the klatch than to contribute a killer recipe for Gertie's guests?
Although I hadn't been asked for my input I ran through my mental recipe file and came across the egg casserole from Borchers Bed & Breakfast in Grayling.
Located on the AuSable River in the upper and middle part of Michigan's "Mitten," Grayling is a favorite destination for paddlers and fly fishermen, cross-country skiers and snowmobilers. It's also the home of Camp Grayling, the largest National Guard training facility in the U.S., which occupies 147,000 acres and trains over 10,000 troops each year.
While the kayaks and canoes are put up for the winter, you can stay at Borchers B&B year 'round. Overlooking the AuSauble and just a couple of blocks from beautiful downtown Grayling, it's a homey inn with six guest rooms and warm and welcoming hosts, Cheri and Mark Hunter.
The lodging part of the business is relatively new, but the couple kept the Borchers' name they inherited when they bought the canoe livery established in 1936 by Ernie Borchers. It's served generations who've made paddling from the AuSable spot a family tradition each warm-weather season.
I stayed overnight in winter, and at breakfast learned that the other guests—two couples—were fueling up for a day of X-C skiing. When Cheri presented her famous egg casserole we insisted it was "too much," but managed to devour it before I remembered to take a photo of the dish.
Cheri graciously shared the recipe and when I got  home I whipped it up for the family, to rave reviews.
It's so rich it's a rare breakfast in our house, but a tasty treat when company's coming.
And if, when I'm in Gertie's chair and under her scissors I find that her guests didn't agree, well, my hair will grow back.
Borchers Egg Casserole
Preheat oven to 350
2 T butter, melted
1-1/2 C cottage cheese
9 eggs, beaten
3 C shredded cheese (I used a mix of cheddar, jack, and the last of another chunk of cheese I don't recall)
3 T flour
3/4 tsp baking powder
Mix all ingredients and pour into a greased dish; I used a deep, glass pie pan. Bake for 40-45 minutes.
Visitor Info Clicks: 
Grayling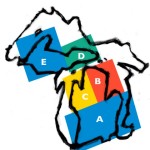 Borchers Bed & Breakfast
101 Maple St., Grayling, MI
(989) 348-4921
(800) 762-8756
Located in Area B on the map
Story and photos copyright Kath Usitalo