Planning a tailgate party or autumn picnic? This quick bread is an easy, light and delish seasonal treat that travels well and is a good way to use that homemade applesauce I mentioned in another Recipe File (or, just as tasty, the store-bought kind). It's nice at home with a mug of tea, too.
The recipe is from an ancient (1970s) Country Inn Cookbook which features specialities from, well, country inns across the U.S. With each recipe there's a sketch of the dish and a short write-up about the inn. (Used copies are available online.)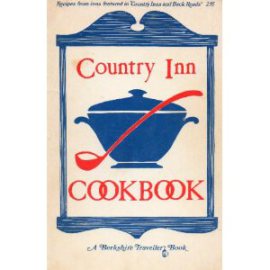 I picked up my paperback many years ago while working at the Botsford Inn, an 1836 stagecoach stop in Farmington, northwest of Detroit. The hotel and restaurant are now, sadly, closed, but the original building, once owned by Henry and Clara Ford, is still standing.  This cookbook's selected recipe from Botsford Inn was a favorite with regulars: Frog Legs Sauteed in Cherry Wine.
Though I've never attempted Botsford's frog legs I have made this applesauce bread many times over the years. It came from the Mountain View Inn in Norfolk, Connecticut. The dining room is no longer open but guests enjoy raved-about breakfasts at the deluxe B & B.
Given the changed status of the two inns mentioned here, I wonder how many of those featured are still welcoming guests. At least the recipes live on.
Applesauce Nut Bread
Makes two loaves
4 cups flour
1-1/2 cups sugar
1-1/2 tbs. baking powder
3/4 tbs. salt
1 tsp. baking soda
1 tsp. cinnamon
1-1/3 cups nuts (walnuts work well)
4 eggs
2 cups applesauce
4 tbs. shortening (I use unsalted butter)
milk (optional)
Preheat oven to 400 degrees.
Mix flour, sugar, baking powder, salt, soda, cinnamon and nuts together in bowl.
Beat eggs very well and add shortening (butter).
Stir into the dry ingredients along with applesauce.
Put into two greased 8×4 loaf pans.
Bake for 20 minutes at 400 degrees then turn to 325 degrees for 55 minutes or until cake tester comes out clean.
Take out of pan immediately. Cool on rack.
If homemade applesauce is used, thin batter by using milk to the same consistency as a heavy cake batter.