Every apple season—in addition to craving fresh pressed cider and warm donuts—I remember a visit we had years ago with Herb Teichman at his family's fruit farm in Southwest Michigan.
The farm has been in the family since the 1920s, but in 1969 Liz and Herb Teichman purchased the property and when they decided to open their Tree-Mendus Fruit to the public a Southwest Michigan agricultural attraction was born.
The 450-acre farm in Eau Clair, southeast of St. Joseph, is a family operation, with four generations involved in the country market, orchard tours, a variety of U-Pick fruits all summer long, International Cherry Pit Spitting Contest, and Rent-A-Tree membership program.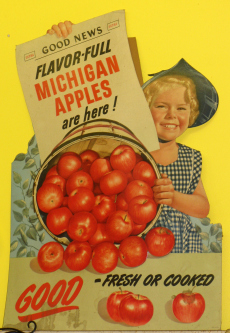 Herb's pride—besides his family working side-by-side—has been his Antique Apple Museum Orchard, which bears over 200 heritage varieties.
We remember his joy in sharing with folks the way nature works in the orchard, saying, "You should see the look of amazement when you hold an apple up and show (visitors) the flower and the stem…and when they are able to eat tree-ripened fruit."  Herb delighted in offering his tips on making applesauce.  "It's such a simple thing, but important."
For a slice of the good life Herb says, "There's nothing like just sitting around the kitchen table with some friends, a selection of apples, a sharp knife, some cheese and maybe some wine."
Herb's Great Applesauce Recipe
"It's an art making good applesauce," according to Herb.  "Every pot will come out differently."
His simple instructions:
I look at the apples and imagine the flavors, and then blend (a variety of apples).  I don't use sugars or seasoning, cinnamon or nutmeg.
You can sweeten it with apples; just experiment.
Quarter the apples—you can core them and take the skin off if you want, or cook it all and then run it through a sieve to take out the seeds and such.
Quarter up the apples, put a little moisture in, let them simmer.
"That's it."
 "I always compare the taste of just-picked fruit to a sunset: it's only there for a fleeting moment and it's gone. And all you have left are the memories."

Herb Teichman,
Tree-Mendus Fruit
Tree-Mendus Fruit Farm
9351 E. Eureka Rd.
Eau Claire, Michigan
(877) 863-3276 or (269) 782-7101