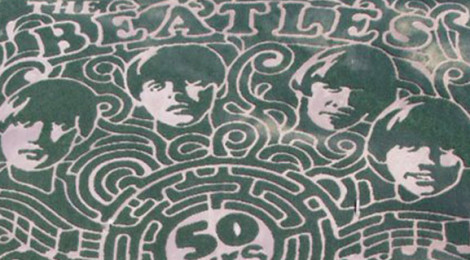 It's probably safe to assume that when John, Paul, George and Ringo recorded their first album it didn't occur to them that a half-century later the occasion would be cause for carving their faces out of a cornfield across the pond.
But at the Richardson Adventure Farm in Spring Grove, Illinois the World's Largest Corn Maze is a 28-acre tribute to The Beatles that salutes, in 11 miles of trails, the 50th anniversary of "Please Please Me" (released in March 1963). Can you hear The Fab Four singing, "Maybe I'm amazed…"
Yes, it's the time of year when corn mazes crop up to amuse and challenge folks who think it's fun to get lost in towering tunnels of corn stalks. Since the early 1990s when U.S. farmers began dedicating acreage to carving walk-through puzzles in their fields, corn mazes have grown in popularity, size and complexity of design. Check out Jacob's Big Island Adventure in Traverse City, or the Super Heroes that occupy 10 acres at Farmer Charley's in Monroe, just two of dozens of mazes in Michigan.
Most corn mazes are open through October (the Richardson maze closes October 27), and some are open at night for "haunted" experiences. There are often other activities to round out the trip to the farm, like a pumpkin patch, cider mill, petting zoo, pig races and hay rides.
And what says agricultural adventure better than an inflated Bounce House?
Visitor Info Clicks:
Richardson Adventure Farm is located about an hour's drive northwest of Chicago in McHenry County, Illinois
Click below to find a corn maze near you: