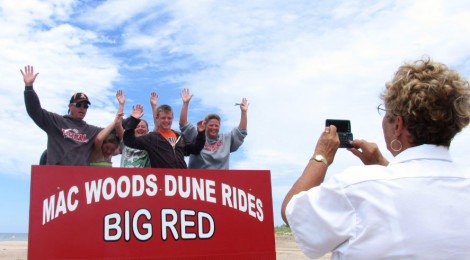 With sunglasses in place to protect against wind-borne sand and a dose of anticipation in the air, 17 of us jockey for position on benches aboard the specially designed, open-air truck prepped to take us where no ordinary set of wheels can go.
"The back is more bouncier," one man announces as he guides his companions to the middle section of Sand Drifter, one of the cheery red custom vehicles in the Mac Wood's Dune Rides fleet. A click of our seatbelts and we're ready to tackle the vast, desert-like sand dunes on a 40-minute thrill ride that has made Michigan's Silver Lake area a tourist magnet for over 80 years.
Silver Lake Sand Dunes, wedged between Lake Michigan and Silver Lake midway on the state's "Mitten," were thick with forests until lumberman Charles Mears arrived in the late 1800s. Stripped of vegetation, the hills became subject to winds that move sand to create constantly changing or "living dunes." At over three miles long and a mile-and-a-half wide, Silver Lake's are the largest live dunes in the chain of rolling sand hills that cover much of Michigan's western coastline.
Though the white mountains are starkly beautiful it wasn't scenery Malcolm "Mac" Wood was seeking when he left home in Decatur, Illinois in 1910. The 17-year-old set out to try his hand at farming, but found his 20 acres of sandy soil less than ideal for crops. He ended up working the land in another way: By 1913 he'd established the first vacation resort on Silver Lake and named it Flora-Dale after his mother, Flora.
Always looking to entertain his guests, Mac hit the bonanza in 1927 when legendary rains packed the shifting sand dunes so tightly that he could drive his Model A across the otherwise uncooperative surface. For the first time folks didn't have to hike—they could motor over the great expanses and 150-foot high hills to enjoy the spectacular sandscape and wide vistas.
The sands dried up and so did Mother Nature's thrill ride, but Mac was inspired. By 1930 he'd built a 10-wheeled Model A that could drive on dry sand and was powerful enough to carry four passengers up and down the natural roller coaster.
"He called it a 'Dune Scooter' because they'd scoot across the sand," explains Shelby Olson, granddaughter of Mac and Mable Wood. She and her husband Chris have gradually assumed the family business from her mom Beverly and dad Pete Wood.
Visitors flocked to the area, nicknamed "Scooterville," for the one-of-a-kind thrill of "shooting the dunes," making hairpin turns and skimming across the spectacular sands at breakneck speeds. In his white sailor's cap Mac Wood, known as "Mayor of Scooterville," presided over the operation with a sense of humor and a knack for promotion. Generations return with kids in tow to recreate staged photo ops and hear corny jokes that are as much a part of the tour drivers' shtick as the quick history and geography lessons delivered at a seven stops along the seven-mile route.
Our guide Ron Edwards says all drivers go through training to learn to drive on the shifting sands. The route covers about 600 acres at speeds of 25 to 31 mph, and Ron says the most asked question after "Where did the sand come from?" is, "Can you go any faster?"
Shelby Olson admits that the Dune Scooter rides were more daring in the early years, before the state acquired the land to create Silver Lake State Park. Now Mac Wood's leases the state-owned land and must adhere to regulations that include staying on a trail that is groomed each morning, often by Chris Olson. He occasionally has to adjust the route to avoid vegetation or a piping plover birds nest. Shelby's husband also builds the modern-day Dune Scooters, turning a Ford F-250 truck into a 20-seat, handicap-accessible vehicle—with seatbelts.
If today's ride is tamer, Cindy Lou Massie of Baraga, Michigan didn't notice. She, her daughter Jen, and granddaughter Kenzie of Orland Park, Illinois rate their recent dune ride, "oh-so much fun. We all really liked going down the big, steep hills and the tummy ticklers," says Cindy. "Our driver Deb had great stories and history to go along with the ride, like the cottages that have been overtaken or moved because of encroaching dunes. Not sure who enjoyed it more, my daughter or my two-year old granddaughter!"
"It's a family scenic ride," says Shelby. "We take babies, we take Grandma and Grandpa… The state wants everyone to be able to go see the dunes."
Mac Wood's Dune Rides
629 N. 18th Ave., Mears, Michigan
(231) 873-2817
Open daily through October 6.
Fees: $17 age 12 and up, $11 ages 3-11, 2 and under free
The fun you have may even inspire you to drive your own off-road vehicle across the sand mountains. We tackled the dunes many years ago in our Jeep, and it was a scary blast.
Want to tackle the dunes at the wheel of your own vehicle? You'll pay for a state park permit, your vehicle must qualify for a Michigan ORV permit and sport a 10-foot orange safety flag, available at local shops. Or rent a dune buggy or Jeep locally. Click here for Silver Lake State Park Off-Road information. 

Visitor Info Clicks:
Silver Lake Sand Dunes Area
Pure Michigan
Located on the border of Areas A and C on the map