It's a long way from Decatur, Illinois to Munising, Michigan—about 550 miles on today's roadways. But in 1840 Abraham and Anna Williams and their 10 kids made that journey to the southern shore of Lake Superior, and then ventured a half-mile more, from the mainland to the large island in the bay.
Voyageurs and fur trappers and traders had passed through the area that the Ojibwe called "Minnising," the "place of the great island," since the 1600s, but the Williams family became the first permanent white settlers on the island; nearby mainland settlements were still a decade in the future.
The large island—over 13,500 acres—is now Grand Island National Recreation Area and a part of the Hiawatha National Forest. Mainly wilderness, with no concessions, lodging or dining places, it's known for hiking, mountain biking, primitive camping, fishing and spectacular scenery. Access is by a 6-passenger ferry; it's a 5-minute boat ride from a dock a few miles west of Munising. Visitors may not bring motorized vehicles to Grand Island but for non-hikers/bikers there's a narrated bus tour that offers a glimpse of the history and natural wonders of the place.
Our group of 10 hopped on board the small bus with our driver and guide Erik and in about 3 hours made a loop of just a portion of the island, which measures up to about 8 miles long and almost 4 miles wide. Like the Pictured Rocks, Grand island has sandstone cliffs but these reach even higher, up to 300 feet. "This is a scenic place. It's an historic place," Erik began, explaining that archaeologists have found evidence that Native people used the island 4,000 to 5,000 years ago seasonally for fishing, hunting and farming.
Apparently Abraham Williams was a man of many talents, from blacksmith to trader. According to Erik, "Every business venture in the area, he has an interest in." The family first lived in an old fur trader cabin, but by 1870 Williams had built a large white house at the water's edge.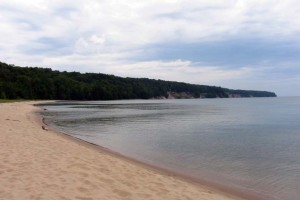 It would become part of a resort hotel when William Mather, president of the Cleveland Cliffs Iron Company, bought the island around 1904. Mather was a conservationist who protected the old-growth forest, created a game preserve and built a 23-mile perimeter road so that his guests could take buggy rides around the island.
After Mather's death in 1951 his company proceeded to log about 80% of the forest he'd tried to preserve. The hotel closed in 1959 and in 1990 the government acquired the island and it became part of the Hiawatha National Forest. The 20 or so privately owned cottages on the island were grandfathered in and allowed to remain in private hands.
We made several stops during the tour with a short time off the bus allotted at each spot, including the restored 1850 Stone Quarry Cabin, the cemetery and Duck Lake, a ceremonial site for the Ojibwe. Two pristine beaches looked inviting, and we were able to sample the hiking possibilities on a very short nature trail along a cliff with sweeping views of Lake Superior.
Black bear, deer, eagles, wolves and moose inhabit the island but, said Erik, "Whether we see anything or not is entirely up to them." We didn't see any of those critters but did spot waterfowl at Duck Lake.
It would have been nice to have spent some time at one of the beaches. We were told to bring a lunch or snacks so I picked up a Muldoon's pasty, envisioning a picnic on the shore. But that wasn't part of the schedule and some folks munched their lunches on the bus. (I did have time to snap a photo of the imagined pasty picnic.)
Overall the bus tour was a good introduction to the island although capable hikers would probably rather be hitting the trail on their own. Those up for a backcountry experience will want to spend a couple of days on the island.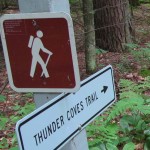 I'd like to return for some gentle hiking and that pasty picnic at the deserted beach.
TIPS: Be sure to pack bottled drinking water and, if bugs bug you, insect repellent because the black flies and mosquitos can be a nuisance in June and July (less of a problem in August and September).
Rental bikes are available but the ones we saw looked unreliable; better to bring your own mountain bike.
NOTE: The Grand Island Trail Run attracts about 500 runners for the full and half-marathons. The 2013 date is Saturday, July 27.
For ideas on where to eat, stay, shop and play in Munising check out the free Great Lakes Gazette Touraide!
Hiawatha National Forest/Grand Island
Grand Island National Recreation Area
Ferry schedule varies with season; check website. Ferry departs from Grand Island Landing, less than 4 miles west of Munising off of M-28, and arrives at Williams Landing at the southern end of Grand Island. Roundtrip fee is $15, $10 kids 6-12, under 6 free; $5 per bike.
A $2 Grand Island entrance fee is included in the ferry ticket price.
Grand Island – Altran Bus Tour
Tour tickets are $20, $10 for children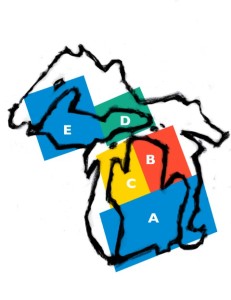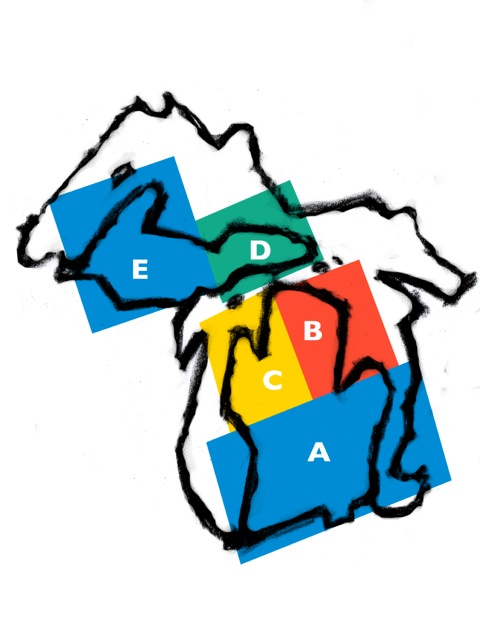 Located at Area E on the map
Visitor Info Clicks:
Munising and Alger County
Pure Michigan
Upper Peninsula Travel
All stories and photos are copyright Kath Usitalo unless otherwise noted