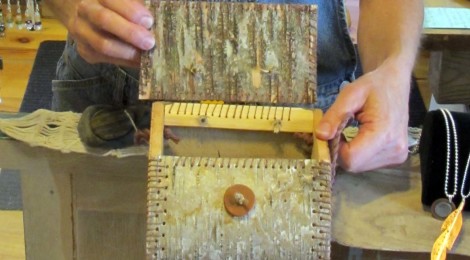 The house on Highway M-28 in Munising in the Upper Peninsula was so decrepit, "it was just swaying in the wind," says Thomas Baugnet about the building that he and his wife Jill transformed into their Open Wings Pottery and Wings of Fancy gallery. The locals assumed the couple was going tear it down; according to Thomas, "26,500 pounds of plaster and lathe—that's what was holding the house together."
But they saw potential in saving the structure and lived in their Airstream trailer while they spent about a year turning the old house into their combination workspace and second floor home. The rustic building has a funky, West Coast vibe, starting in the front garden where the natural decor of twigs and a fence made of long, smooth, silvery pieces of driftwood hint at the creativity of the couple behind the business.
It's a gallery for the senses; a sweet aroma of scented soaps and candles wafts through the open space, where the wood floors gleam and the simple shelves are loaded with the creations of Thomas, Jill and more than 40 other artists, most from the Munising area and the U.P. It wasn't difficult to find the talent; once word got out about the new gallery most of the artists contacted them, wanting to be involved, and the Baugnets have built a steady stable of quality goods.
"This is where we play," Thomas says as I peek inside the adjacent studio, an add-on to the old house. The Wisconsin native didn't plan this life. He was interested in studying child development at the University of Wisconsin-Green Bay when he discovered the role of art therapy in that field. He took art classes and realized his true calling.
If you're in luck you'll visit Open Wings on a day when you can watch him throw clay or otherwise work on goblets, vessels, bowls, platters, dinnerware, vases, mugs and other decorative and functional pottery.
Jill, who is from Escanaba, just about 60 miles south of Munising, recently started working in clay but she also fashions too-cool-to-splash-spaghetti-sauce-on aprons of vintage and recycled fabrics. Big into repurposing, she makes beautiful mittens of felted wool from rescued sweaters.
Open Wings carries the wearable art made by several local jewelry artists but it is the sculptural pieces by Marquette artist Beth Millner that stop me in my tracks.
We spend a lot of time browsing the gallery and the delicious-smelling soaps, candles, furniture, rugs, textiles, paintings, photography, books, yard art, "Yooper Wool" skeins of yarn and knitted socks.
After much deliberation Paige splurges on a fabulous, colorful—and, of course—handmade winter hat. I can't resist the beautiful, blue, footed bowl made by Thomas; it was destined to come home with us.
The most unusual items I notice are the wooden "Tree Skin Bags" covered with birch bark and stitched with an artificial sinew by an artist named Freeman. Aptly, Jill says he's kind of a free spirit who makes the bags sporadically.
I feel artsier and inspired just walking through the place, and look forward to a return visit.
For ideas on where to eat, stay, shop and play in Munising check out the free Great Lakes Gazette Touraide!
Open Wings Pottery and Wings of Fancy
318 W. Munising Ave. (M-28), Munising, Michigan
(906) 387-5070
NOTE: Closed Sunday
Located in Area E on the map
Visitor Info Clicks:
Munising, Alger County
Pure Michigan
Upper Peninsula Travel
All stories and photos copyright Kath Usitalo unless otherwise noted