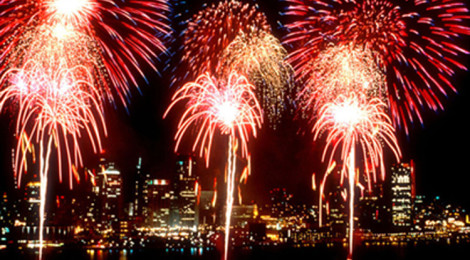 The pops and booms of firecrackers and fireworks used to be confined to the weeks leading up to and after the Fourth of July. Now the noises that send Tucker the Wonder Dog running for cover are almost a year 'round sound. The poor pup is terrified of the commotion, even in the distance.
With the wide availability of fireworks folks are setting them off for graduations, weddings, New Year's, block parties and for the heck of it. I'm like Tucker—not fond of the neighborhood boom  fests—but I'm a sucker for the large-scale pyrotechnics. When we were kids we sprawled out on blankets at Bell Creek Park in Redford for the Independence Day entertainment, and as soon as I got my first car I started going to neighboring Windsor, Canada, to watch the annual International Freedom Festival extravaganza from the banks of the Detroit River.
If we're in the Upper Peninsula over the July 4th holiday and if it's a very clear night at Blue Skies we can see simultaneous displays from Naubinway plus Beaver Island, Petoskey and Harbor Springs waaaaay across Lake Michigan.
Trolling for Michigan fireworks displays I came across a great source online which was started by another fan, Meg Geddes. Years ago, when her hometown of Ann Arbor cancelled its Independence Day fireworks show, Meg went on the prowl for alternative displays. It wasn't purely a selfish pursuit; she had a young godson and, she says, "I wanted him to love them as much as I do."
In 1999 she launched a website that has grown from the initial two listings (in Detroit and Ypsilanti) to this year's more than 503 events catalogued at MichiganFireworks.com.
The free calendar includes year 'round fireworks displays, but not surprisingly the majority of listings—as well as most visits to the website–are in late June through the first week in July. "Interestingly," says Meg, "I also get a lot of UK traffic around Guy Fawkes Day in November. Mostly because Michigan has a lot of towns with parallel names to British towns (Manchester, Birmingham, etc.).  Guess they don't notice the 'Michigan' part."
Thanks to Meg's tireless effort—and the help of website developer Hunter Satterwhite—you can search for displays by county, by city and by date. Procrastinating pyro fans can find last minute entertainment under the "Today's Fireworks" listing, and "Baseball Fireworks" provides a calendar of displays at ballparks. There's also a page dedicated to firework show cancellations.
Amazingly, Meg has similar listings for fireworks displays in Illinois, Indiana, Ohio, Pennsylvania and Wisconsin.
Fortunately for Tucker Meg hasn't (yet) added sound effects to accompany the web browsing at her spectacular sites.
All stories and photos copyright Kath Usitalo unless otherwise noted