Maybe it was the memory of the unappetizing "meat glue" video (just as it sounds, the stuff that sticks meat parts together) that had made its way to my email box. Or it could have been my dependency on recipes from its cookbooks. But on a chilly evening with a locally-brewed beer in hand I truly savored the vegetarian stew at Moosewood Restaurant in beautiful downtown Ithaca, New York.
After years of whipping up dishes from three Moosewood cookbooks—the first, Sundays at Moosewood Restaurant, is falling apart from use—I finally found my way to the home of the natural foods restaurant, a vegetarian dining icon since it started dishing healthy fare in 1973.
If I'd had a bucket list visiting and eating at Moosewood would have been on it. I savor their flavors and figured if I were ever in the Ithaca neighborhood I'd eat at Moosewood. But I never took the time to locate it on a map. Ithaca? Upstate New York? That was about as foreign to me as the Upper Peninsula is to New Yorkers.
Finally, when planning Paige's college survey tour a few years ago I realized Moosewood Restaurant is located in the town where our darling daughter ultimately decided to spend the better part of four years, at Cornell University.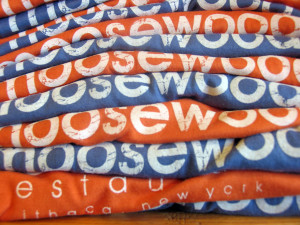 The popular Moosewood is collectively owned by 19 members who bring their varied talents and love of food to the two dining rooms on the lower level of a sturdy brick former school building.
There's often a line for seats in the groovy light-and plant-filled space where seating is at wooden tables and chairs that throw off a 1970s vibe. Conveniently for those waiting there's a display of Moosewood's dozen cookbooks and stacks of T-shirts (a signal to the world of your food sensibilities) to browse and buy.
On my first, solo visit I chose a seat at the bar, where it didn't take long to make my selection from the short and sweet menu: three vegetarian choices and one fish dish, a couple of appetizers and soups. Everything on the daily changing menu is made from scratch from fresh, often organic, produce and quality ingredients. There are vegan options. The lunch and dinner menu selections (and prices) are listed online every day so you can decide before trekking there whether you're in the mood for the limited menu du jour.
Since that initial foray I've been back a few times with TJ, Paige and Graham. The kids have been eating the Moosewood way all their lives so it was fun to experience the source of the veggie meals they've enjoyed at home. (Someone once asked me how I got the kids to eat vegetables, including eggplant. We've regularly had vegetarian meals in our home and it's never been an issue. I love that Graham and Paige are adventurous eaters!)
Everything we've sampled at Moosewood has been a hit, but because the menu changes constantly there's no reason to go into deep critiques of each meal. Suffice it to say it's good food and it's good for you.
All of that goodness doesn't come cheap.
And my entree on my first visit, an aromatic mix of veggies on rice sprinkled with feta cheese and accompanied by a side salad with housemade dressing, didn't even come with meat glue.
Visitor Info Clicks: 
Ithaca
Related Posts: 
Moosewood's Finnish Blueberry Yogurt Pie