You know you need a delish brownie recipe that's easy to pack and eat out of hand at picnics, potlucks, outdoor concerts and, well, when you just want a good brownie. Paige whipped up a batch of these for a picnic; she found them in the Moosewood Restaurant Cooks at Home cookbook. They're simple, quick, easy to eat and transport—very different from the denser and gooier (but also yummy) Chicago's Palmer House hotel brownies we indulged in and shared.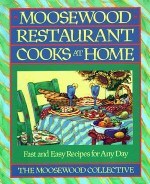 After years of using the cookbooks I finally visited Moosewood Restaurant, which was founded in 1973 by a 19-member collective in Ithaca, New York. The emphasis is on vegetarian and natural foods, but that doesn't exclude desserts like these brownies, which you may find on the restaurant's daily changing menu.
Moosewood Fudge Brownies
from Moosewood Restaurant Cooks at Home
Makes 16 brownies
Ingredients
1/2 cup butter
3 squares (1 ounce each) unsweetened chocolate
1 cup lightly packed brown sugar
1/2 teaspoon pure vanilla extract
2 large eggs
1/2 cup unbleached white flour
Method
Preheat the oven to 350 F
Butter an 8 or 9-inch square baking pan
In a heavy large pot, melt the butter and chocolate together, stirring occasionally. While they melt, assemble the rest of the ingredients (if mixing by hand, beat the eggs with a fork in a separate bowl).
When the butter and chocolate have melted, remove the pot from the heat. Add the brown sugar and vanilla and beat by hand or with an electric mixer. Add the eggs (just crack them directly into the pot if using an electric mixer). Stir in the flour, and mix until the batter is thoroughly blended and smooth.
Pour the batter into the pan and bake for about 20 minutes, until the brownies are just beginning to pull away from the sides of the pan and are fudgy in the center. For more cakelike brownies, bake an additional 5 minutes.
Related Post:
Moosewood Restaurant