Detroit is a sports town, whether its four pro teams are delivering heart-stopping thrills and keeping jersey-clad fans glued to game coverage—or not. It's been called the "City of Champions," but few know how or why it got that name.
Sure, the city's sports nuts are legendary in their devotion; it helps when the Red Wings advance to the hockey playoffs for the 22nd consecutive year and the Tigers get the baseball season off to a grrrrreat start. Hope springs for Lions football fans and I'm sure there are basketball believers who see potential in the Pistons. Even when the losses outnumber the wins, Detroiters have a history of rabidly supporting their teams.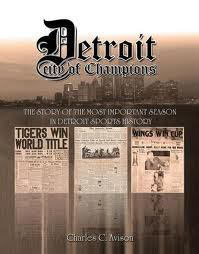 In his book, Detroit, City of Champions, Charles C. Avison provides the historical perspective and how the "champion" moniker came about.
The photo and info-packed book studies one incredible year in Detroit sports history, the season in which the Tigers, Lions and Red Wings all won their first championship titles: 1935.
It was also the year that boxer Joe Louis, "The Brown Bomber," defeated heavyweight champ Max Baer.
But wait, there's more!
In what he calls "The story of the most important year in Detroit sports history," Avison chronicles the 1935 championships and/or world records in golf, tennis, diving, speed boat racing, fencing, billiards, badminton and yes, checkers. The World Checkers Champion was Detroiter Newell Banks.
The wins and excitement were welcome diversions during the Great Depression. Governor Frank Fitzgerald declared April 18, 1936 "Champions Day" in Michigan. It was a big enough deal that President Franklin D. Roosevelt recognized the achievements with a plaque, signed by all 48 governors, declaring, "A nation appreciative of those qualities of character essential to success in competitive athletics salutes Detroit, which in this year of 1936 richly merits recognition as the City of Champions."
The book project that pays tribute to the era is a labor of love by Avison, a Western Michigan University history grad. He sells Detroit, City of Champions for $29.99 at his website and at The Rust Belt Market in Ferndale, Yellow Door Art Market in Berkley and the three Art-is-in Market stores at Laurel Park Mall in Livonia, Twelve Oaks Mall, Novi and Partridge Creek, Clinton Township.
In addition to the book Charles sells prints and metal display plaques ($70) of historic photos and news clippings and magnetic replicas of game programs ($10) culled from the reams of research he did in writing and publishing the tome.
No other city has replicated the sports accomplishments seen in Detroit in the 1930s. Whether today's teams bring home the world titles or just provide some thrills along the way, 
Detroit, City of Champions
is a must-have for the die-hard Motor City sports fan.
All stories and photos copyright Kath Usitalo unless otherwise noted