Hamburg ~ Pickle On Top ~ Makes Your Heart Go Flippity Flop!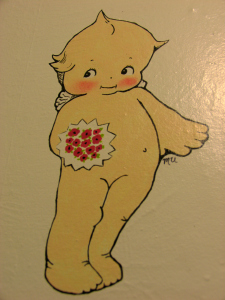 You have to love a joint that not only plasters that little ditty, teamed with a picture of the sweet Kewpie dolly with the hair swept into a point, but has served its most tasty Olive Burger for 90 years.
Enter the Weston family's Kewpee Restaurant in beautiful downtown Lansing and you'll see a sign for "Kewpee Hotel Hamburgs," the name of the original fast-food chain founded in Flint in 1923.
That's the year the Westons opened their spot in the state capital, conveniently located for legislators and other bureaucrats who undoubtedly have done a bit of business over a burger in the cushy booths of the brick-walled dining room.
Kewpee is known for introducing the flat-bottomed bun and the hamburger deluxe, the topping of mayo, lettuce and tomato.
With olive sauce added to the to the mix it becomes the popular Olive Burger, which is served in three sizes (Regular at 2.5 ounces, the quarter pounder King, and Kolossal half-pounder).
I opted for the King Deluxe Olive Burger with sweet potato fries. The burger comes simply wrapped in paper, which conveniently doubles as a placemat for catching the drips from the juicy sandwich. The secret to the fourth generation Westons' famous burgers is the certified Angus beef, ground fresh daily.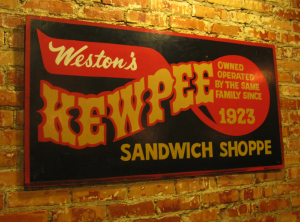 Delish.
You can choose a plain burger, turkey burger, cherry burger or veggie garden burger, too. Other sandwiches and wraps, salads and sides round out the menu. There's a good looking breakfast selection served Monday-Friday.
But it's the Olive Burger that defines Kewpee, and is the reason I'd return.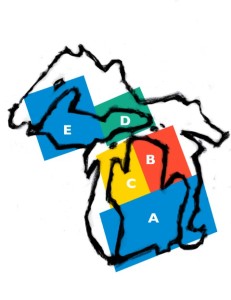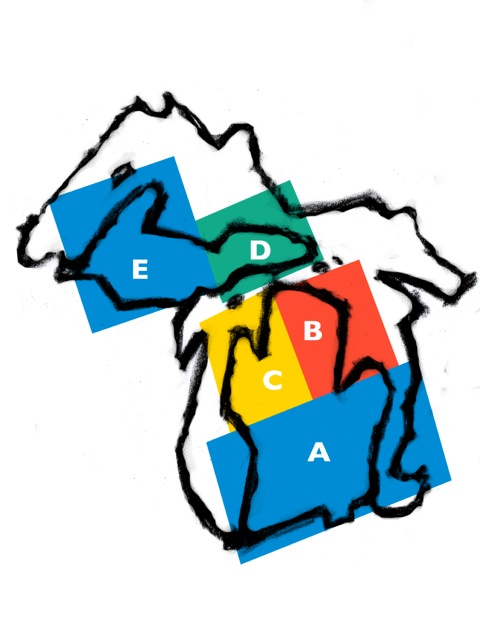 118 S. Washington Square, Lansing, Michigan
(517) 482-8049
Area A on the map
Weston's Kewpee Restaurant in downtown Lansing is open 8 a.m.-6 p.m. Monday-Friday and 11 a.m.-3 p.m. Saturday.  Closed Sundays.
NOTE: Bill Thomas' Halo Burger in Flint, Michigan was the original Kewpee sandwich shop, and maintains the same recipe under the Halo Burger name.
Visitor Info Clicks:
Lansing
Pure Michigan
All stories and photos copyright Kath Usitalo unless otherwise noted